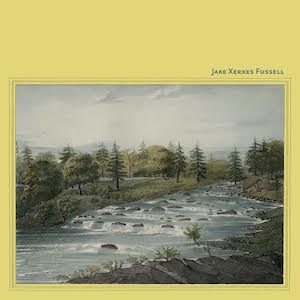 Via Paradise of Bachelors, the self-titled debut long player from North Carolina singer and guitarist, Jake Xerxes Fussell — a lively and wholehearted gem of folk, country and bluegrass.
Immersed in old world Americana, Fussell's debut finds him accompanied by William Tyler on production and guitar, as well as Chris Scruggs on steel guitar, bass and mandolin, Brian Kotzur on drums and Hoot Hester on fiddle. Together, they light a fire that pays a warm and embracing tribute to the past, while keeping the arrangements and delivery easy and limber — making for a record that is not only gorgeous, but also a hell of a good time.
Tracks "Let Me Lose" and "Push Boat" positively groove. Everyone sounds so good on this record and if they accomplish one thing — it's making you want to move. But Tyler's luminous production creates an atmosphere for quieter, more plaintive moments as well. He exposes every nook and cranny of Fussell's beautiful, creaky voice — aged beyond his years — and on "Star Girl" he melts together with Scruggs' steel guitar spectacularly. Indeed, this band has an incredible chemistry, and their sounds often fuse together into one. On moments such "Rabbit on a Log" and "Georgia Buck," Hester's fiddle oozes across the tape while the guitarists dance around, across and on top of it.
The strange, arcane lyricism of these old tunes paint lush landscapes of rural life and pondering — a deceptive simplicity that Fussell's voice and fingerpicking are suited perfectly. "Raggy Levy," a song dating back to the Georgia Sea Island Singers in 1942, finds him singing about stone fences and sweet potatoes. It seems completely innocuous, but Tyler's atmospheric production again comes into play and the low mix of organ and percussion swirl around Fussell's emphatic delivery. Quietly, but unmistakably, the poignancy of this group's paean to the vistas and spirits of their land take hold of you. And you don't want it to let go. words / c depasquale