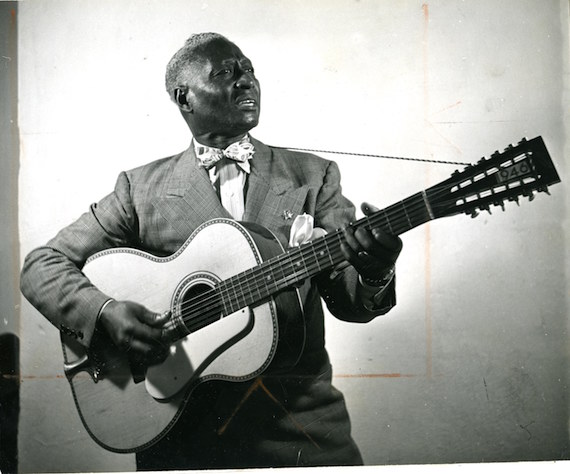 Huddie Ledbetter, widely known as Lead Belly, is one of the most important figures in the history of American music. His recordings popularized songs that would become parts of the folk and blues canon, and Lead Belly: The Smithsonian Folkways Collection, a new remarkable new box set, showcases his full range, featuring blues, gospel, folk, popular songs, and novelties.
Co-producer and Smithsonian archivist Jeff Place says the collection in an effort to "create something like a museum exhibit in a book with audio." The lavish document serves as a demonstration of how historical context enriches the listening experience, with previously unseen photos, exhaustive notes, and detailed discography information accompanying four discs of recordings. "That way people get to know what these songs are about, that they have connections to something," Place says. "It changes your entire listening experience when you really know that."
Indeed, Lead Belly's history is complex enough to warrant such deep investigation. He was first recorded by musicologist John Lomax while serving a sentence for attempted murder at Angola Prison Farm in Louisiana. Lomax played up the musician's criminal background, invoking a previous murder and prison stint to present the singer to crowds as a barely reformed criminal. Viewed from a modern perspective, Lomax's star-making efforts often display an ugly racial dynamic.
"…You see some of these film clips in [the Smithsonian Channel documentary The Legend of Lead Belly] where Lomax is the old white guy and Lead Belly is sort of playing this step-and-fetch-it character, [saying] 'Here, mister bossman.' It's really kind of obscene," Place says.
But ultimately, "It's fortunate for Lead Belly that he did meet Lomax, who brought him to much wider audiences, albeit in a very strange way," Place says. "If he hadn't of run into Lomax, who knows if he might have stayed playing plantations down in the South and no one would have ever heard of the guy."
Eventually, Lead Belly's stature grew. Bolstered by his ability to perform nearly any kind of song, he found he didn't need Lomax's promotion. "All those other people around him, the Woodys and the Petes, they appreciated him for what he was," Place says of Lead Belly's friendships with the New York folk set, including Woody Guthrie and Pete Seeger, both of whom were profoundly influenced by his work.
In addition to Lead Belly's best known sides, The Smithsonian Folkways Collection includes illuminating curiosities. 1941 recordings from WYNC's Folk Songs of America radio program find him in singing rousing versions of "Baby Don't You Love Me No More" and "Blues in My Kitchen, Blues in My Dining Room." Also included is a kind of "duet" between Bessie Smith and Lead Belly, on which he sings along with a Smith 78 playing in record producer Frederic Ramsey's apartment.
The collection serves as a glimpse into who Lead Belly actually was, beyond the myth and notoriety. "You can see him being silly or affectionate to his wife in a lot of these letters," Place says. "In
[The Legend of Lead Belly] his great nephew talks about having him as a babysitter and he remembers him as this jovial old guy. But you also hear about his temper, and his getting into problems, too."
Place suspects that at the core of Lead Belly's public persona was frustration. "A lot of it really was bad timing," the historian says of the way fame largely eluded the singer. "He was hanging out with Blind Lemon in the '20s, and Blind Lemon winds up a big star and Lead Belly ends up in jail for a bunch of years. He gets out of jail right at the height of the Great Depression, when nobody's buying records at all. He puts out a few records that don't sell, so he gets dropped from the label, right? Then he gets into the '40s and he's hanging out with the white folkies in New York, playing to that little audience, but black folks in New York didn't want to listen to his music — [didn't] want to hear about cotton picking and stuff like that. Finally, after he dies one of his songs becomes the biggest hit in the country when the Weavers cover it. Had he lived two years longer he would have been rich, but he died without succeeding, not getting what he was after."
While he never achieved that status in his life, his role in the preservation of American songcraft is undeniable. His figure looms over not only the fields of blues and folk, but pop music in general.
"Playing on the street and playing the places he was, it's kind of like a Top 40 band might do today: you play the hits, the things people know," Place says. "But he was also coming up with all these obscurities. He'd hear a Hawaiian song and he'd play that. Or 'Rock Island Line,' which was a jingle for the railroad company. These prisoners Lomax recorded in Arkansas were singing and [Lead Belly] heard it and of course he made it his, and it become this big thing because of him. That might have been one of the thousands and thousands of songs in that sits in the Lomax library that no one ever pays any attention to."
In many ways, Lead Belly is the through line connecting Pete Seeger to Tom Waits, Creedence Clearwater Revival to the Meat Puppets, Odetta to the Billy Childish, the Grateful Dead to Nirvana; all performed his songs. "He did that with a lot of songs, picking them up and adding them to his repertoire," Place says. "There are a lot of songs people know because he recorded them, and people recorded them after him." words / j woodbury