There's a sound in Harvey Mandel's "Long Wait," the last song on Side One of his 1968 debut, "Cristo Redentor." 1:43 into a searing, grinding, winding guitar passage, there's a little … "plink." It's a moment of subtle yet daring ingenuity, the kind Harvey Mandel has wielded in spades throughout his 50-year career.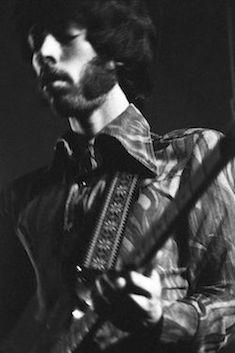 Diggers know. Somewhere in the bin between Malo and Mandrill, you'll find the records. Cristo Redentor, Righteous, Baby Batter, Shangrenade. Maybe you're lucky enough to find a Cristo promo in mint condition, with the shiny gold Philips label instead of black. Long a favorite of in-the-know DJs, producers and gearheads, Mandel has been sampled by Del The Funky Homosapien and Nas, and he's played in Canned Heat, with John Mayall, and on The Rolling Stones' Black And Blue LP.
Today is Harvey's 70th birthday, but it is not a happy one. He was diagnosed with nasal cancer in 2013, and has undergone sixteen surgeries. The type of cancer he has requires very specialized surgery by a top doctor in Chicago who does not accept health insurance. This is all fully disclosed on a website run by his sister at Help Harvey Mandel. Harvey has had to pawn his guitars and sell his publishing to stay afloat. He lost his only son and his mother in recent years. Now his dog Buck has cancer too. And Harvey faces several more surgeries. We all hear about musicians who fall on hard times late in their careers, yet his seems an especially cruel turn.
Harvey Mandel :: Cristo Redentor
Mandel grew up in Chicago and started playing guitar at 16, learning The Ventures' Walk Don't Run LP note for note. He met Sammy Fender, a black blues musician who took him down to Curley's Twist City, a crucible of Chicago blues innovation. After a few months jamming with the regulars and his own combo, he could hold his own with anybody. He played with them all; Howlin' Wolf, Muddy Waters, Buddy Guy. "You could name a list of 100 well known blues people", he said. "I got to play with all of them at one time or another in Chicago." He ran alongside locals Steve Miller, Charlie Musselwhite, Mike Bloomfield, and Barry Goldberg, all part of the burgeoning scene. Bill Graham invited Musselwhite and Mandel out to The Fillmore in San Francisco in August 1967 as the first of three on a bill with Electric Flag and Cream. He recalled in 2011, "I came in from Chicago with this little Fender amplifier with one 12" speaker and I look up onstage and here's Eric Clapton with a wall of Marshalls…And he was so cool, I asked him 'Think I could borrow one of those things during my set?' No problem."

Back in Chicago, Mandel had worked up a certain sound he had in his head — a heavy sustain – through trial and error with the equipment of the day. "We didn't have the array of pedals and electronics and all the little gadgets," he told KCTH in 2011. "The only way to get that sound was to have the magic guitar and be able to plug into a certain amplifier, certain ones that would give you that overdriven, sustaining sound. I was a maniac at trying to find the magic things, experimenting with different speakers, I used to punch holes in speakers…"
Harvey settled in San Francisco, jamming at the Matrix with Jerry Garcia in 1968 and hooking up with Blue Cheer producer Abe "Voco" Kesh who scored him a deal with Philips. Cristo Redentor was recorded in LA, Nashville and San Francisco with crack players like Pete Drake, Kenny Buttrey, Pig Robbins, Goldberg, Musselwhite, and Miller. At once gritty and elegant, Cristo Redentor combines Nick De Caro's lithe string arrangements with Harvey's groundbreaking electric guitar technique to create something unearthly, far transcending the narrow blues conventions of many of his contemporaries. Mandel's long, sinewy guitar lines earned him his nickname "The Snake," apt not only for his drawn out sustain but also his unpredictability; the listener is never sure where he's going. He doesn't follow conventional patterns for soloing within songs. He's in full slither on the epic "Wade On The Water", partially recorded onstage at The Avalon Ballroom. "I wanted the song to be a big production number with a wide, live feel and lots of natural reverb," he said in a 1995 interview. It takes a certain vision to record a live band performance in order to get that "big" sound, and then blend it with orchestration in the studio to create a track that seamlessly matches the thread of the album. Who does that?
Mandel's second LP, Righteous, released in 1969, swaps out arranger De Caro for Shorty Rogers and features a new set of players. The result is brassier and busier, Mandel's guitar at times overwhelmed by Rogers' overly ambitious charts. Neither of the albums sold, and so by album number three, 1970's Games People Play, there's a vocalist on several tracks. The album is notable for the backwards tape experiment "Ridin' High".
The skinny kid with the muttonchops, brown crushed velvet slacks and open neck dark blue dress shirt on stage at Woodstock — that's Harvey with Canned Heat. It was Harvey's third show with the band since taking over for Henry Vestine, who had recently quit. Although the Heat's performance was sliced at the last minute from the original Woodstock movie, it appears in the Director's Cut released a few years later. During "A Change Is Gonna Come", lead singer Bob Hite is bumrushed onstage by some dipshit, but Bob looks really happy to see him. The kid takes a pack of cigarettes out of Bob's breast pocket, pulls one out, Bob is all too happy to light it for him, and they have a conversation. Classic. Then Mandel unleashes a torched solo, as he does in other clips such as "On The Road Again", which became a Woodstock anthem. Harvey's high-octane playing at Woodstock and on Canned Heat's studio album Future Blues added an outer dimension to the band's meat, meat, and more meat and potatoes blues. Mandel would re-unite with a reconfigured Canned Heat in 2009.
From 1970 to 1975, Mandel released five albums on the Janus label, including the fantastic Baby Batter from 1971, a funky, blistering set featuring Canned Heat bassist Larry Taylor, Howard Wales on keyboards and Big Black on congas, with some string arrangements by Shorty Rogers. "El Stinger" will set your hair on fire. It must have been a blast to be in the studio. From the album credits: "Special thanks to Harry Nilsson, Wine Consultant and Bearer." The album is described in liner notes by KSAN's Dusty Street as "'a produced' jam . . . 'Produced' because it was done in a studio, but kept the spontaneity of the all-night session." Mandel went on to join John Mayall for two albums, USA Union and Back To The Roots, followed by a stint in Pure Food And Drug Act, who released one album, Choice Cuts, on Epic in 1972. 1973 saw the release of the double-LP 'Free Creek', a mysterious, forgotten 1969 super-session featuring Clapton (listed as "King Cool"), Jeff Beck (listed as "A.N. Other"), Dr. John, Todd Rundgren, Linda Ronstadt, and others. This is one of those "giant pile of coke in the studio" records with dozens of musicians that never happens anymore. Mandel also played on a Raymond Louis Kennedy LP released in 1970. Harvey's never heard of him.
Much has been said about Mandel's influence on other guitarists, certainly with regard to sustain but also "tapping", a technique used by Eddie Van Halen, Kaki King and any number of heavy metal players. Harvey tells me the first guy he actually saw doing it was Randy Resnick, a member of Pure Food And Drug Act. Mandel's first recordings to heavily employ the method appear on his fusion-tinged 1973 Janus LP Shangrenade, although he was doing some form of it years before that. While Mandel didn't invent tapping (Roy Smeck did it in the '30's, George Van Eps did it in the 50's), at least one guitarist of note saw The Snake do it first. Deep Purple/ Rainbow axeman Ritchie Blackmore recounted in a 1991 interview:
"The first person I saw doing that hammer-on stuff was Harvey Mandel, at the Whisky A Go-Go in '68. I thought 'What the hell is he doing?' It was so funny [laughs], Jim Morrison was carried out because he was shouting abuse at the band. Jimi Hendrix was there. We were all getting drunk. Then Harvey Mandel starts doing this stuff [mimes tapping]. 'What's he doing?' everybody was saying. Even the audience stopped dancing. Obviously, Eddie Van Halen must have picked up a few of those things."
In 1976, The Rolling Stones auditioned Mandel as a possible replacement for outgoing guitarist Mick Taylor, and Harvey plays on two tracks from 'Black And Blue' – "Memory Motel" and "Hot Stuff." Keith was kind enough to recently send a signed guitar for Harvey to auction off as a fundraiser to help cover some of his medical expenses. Gregg Allman did too.
After a dormant solo recording period between 1975 through the mid-90's, Harvey's first three Philips albums were reissued by PolyGram in 1995 on a long out-of-print two CD set overseen by producer Bill Levenson. Numerous self-released solo albums followed through the 90's and '00's. Bob Dylan's camp asked Harvey to accompany Bob onstage during his Grammy performance in 2011.
I tried to interview Harvey recently. When you're missing your nose, retracing the nuances of late 60s recording sessions tends to take a backseat. And there's also the rent. I'm not trying to make you sad, dear reader, or hand you another sob story. But when one of your musical heroes is so besieged by suffering, it prompts you to act. We all see pleas online to help someone. They are easy to ignore. Harvey really needs help right now.
Let's see if we can help Harvey Mandel on his 70th. Let's try to make this a happier birthday for him. A musician of Harvey Mandel's stature deserves it. Donate here, or directly via this paypal address: harveysnake@comcast.net.   words / Josh Rosenthal (founder, Tompkins Square)