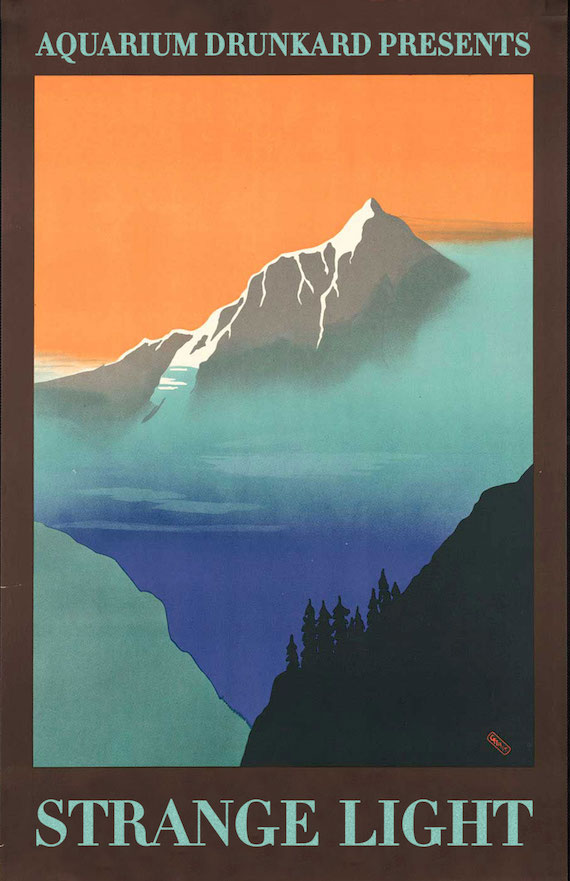 Enter Strange Light, a sister mix to last year's Blue August Moon. If the latter played like a transient spirit hovering over a hazy, humid dusk, then think of this as a snowy, white dawn giving way to spring. Thick with its own mystery and magic – a tranquil blend of global folk, gospel, soul and psych. A strange light, indeed.
Strange Light – A Mixtape (stream / download)
Playlist after the jump. . .

Intro — "Unknown to Themselves"
Pharoah Sanders — Japan
Mulatu Astatqe — Tezeta
Dara Puspita — To Love Somebody
Robbie Basho — Variations on Clair de Lune
Van Morrison — Sweet Thing
Daniel Bachman — Happy One Step
The City — Man Without a Dream
Bob Carpenter — Miracle Man
Doris Troy — Whatcha Gunna Do About It
The Combinations — While You Were Gone
Lee Jung Hwa — I Don't Like
Eddie Floyd — I've Just Been Feeling Bad
The Mamas & The Papas — Snowqueen of Texas
The Band — To Kingdom Come
Clyde McPhatter — You're Movin' Me
Willie Wright — Nantucket Island
Jerry Jeff Walker — Well of the Blues
Jan Bradley — It's Just Your Way
L.C. Cooke — Put Me Down Easy
Arthur Russell — Nobody Wants a Lonely Heart
Gram Parsons and Emmylou Harris — In My Hour of Darkness
Buffalo Springfield — Kind Woman
Cat Power — Fortunate Son (Creedence Clearwater Revival)
Arthur Russell — Come to Life
Vetiver — Sleep a Million Years
Here We Go Magic — Song in Three
White Denim — Light Light Light
Callers — Rone
Lambchop — Each Time I Bring It Up It Seems to Bring You Down
Dirty Projectors — Dark Eyes (Bob Dylan)
Gracious Calamity — Song That Grows Like a Vine (Demo)
Jessica Pratt — Streets of Mine
Mountain Man — Around and Around (John Denver)
Nick Cave & The Bad Seeds — Into My Arms
The Rolling Stones — Sweet Black Angel
Junior Kimbrough — My Mind is Rambling
Antony & Bryce Dessner — I Was Young When I Left Home
Vandaveer — Long Black Veil
Jim Woehrle & Michael Yonkers — Monkey's Tail
Hawa Daisy Moore — Ja Na Ka
Francis Bebey — Doula o Mulema
Chester Lewis — Precious Lord
Odetta — Cool Water
Shirley Ann Lee — Introduction / All I Have To Depend On
Outro — "Exactly the Right Time and Place"
Alice Coltrane — Going Home
words/ c depasquale
Related: Aquarium Drunkard Presents: Blue August Moon – A Mixtape