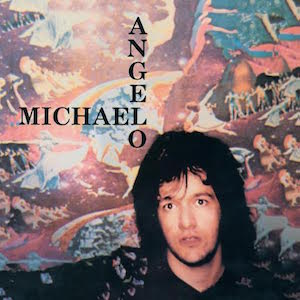 Michael Angelo's self-titled 1977 LP is an earnest fusion of post-Beatles psychedelia and "out there" lyrical incantations, but reflecting on its 2015 re-release by Anthology Recordings, the Kansas City songwriter would like to clear up one popular misconception: "To this day, people hear the album and they say, 'Were you doing LSD?' And no, I didn't do LSD. I don't do any of that stuff. No really — I was absolutely straight on that record. A couple of beers and that was it," Angelo says with a chuckle.
It's not hard to hear why inquisitive heads might wonder. In addition to the album's prominent placement in the late Acid Archives editor Patrick Lundborg's favorite private-issue albums list, Angelo does have a penchant for fantastical sounds — hear the swirling synths of "Field of Lonely Eyes" and cosmic folk of "Flight of the Pegasus" and "Oceans of Fantasy. But it's not just the trippy textures that make Michael Angelo a rewarding listen 38 years after its release — it's the songcraft, the Beatles-esque chord progressions of "Lost in the Pain," the cresting lo-fi power pop of "The World to Be," and the strident piano pop of "Checkout."
The album was recorded at the Liberty Recording studio in Kansas City, Missouri, where Angelo worked as a session musician. He and drummer Frank Gautieri cut the album, during off-hours when the studio wasn't booked throughout 1976. "The studio itself was in, believe it or not, inside of a cave," Angelo says. "This cave had been cut out and they had put in these offices. You'd drive through this cave and you'd get to this one door and that was Liberty Recording."
Upon completion, it became clear that Liberty wasn't going to release the unmixed album, so Angelo took the recordings to another Kansas City record company studio, Big-K Records, to see about mixing there. "One thing led to another and before I knew it I was a studio musician up there, too," Angelo says. He completed the self-titled album at Big-K, which released it via its Guinn Records label in 1977 in the limited quantity of 500 copies.
Angelo cites standard rock influences on the album's fuzzy, tuneful sound — Beatles, Cream, Beethoven, the Moody Blues — but says that the lyrics, about disenfranchised youth and mystical headspaces, were drawn from his own mind. "I was getting into Greek mythology, The Iliad, that affected me a lot," Angelo says. "But a lot of it was just my own imagination. At the time I just didn't want to be boxed in to "She loves you, yeah, yeah, yeah." That was too earthbound. I wanted to be somewhere else in my head, to some sort of magical place. It's kind of hard to describe, but when I got there I got some pretty far out lyrics and music, I know that."
After years of bootleg pressings, the Anthology Recordings' reissue finds Michael Angelo finally benefiting from its sales, and while he's not complaining about the money, it's the recognition of the record that excites him the most, a sort of validation of his lifelong dedication to playing music. "This whole thing's been a weird ride. I've probably written a thousand songs in my life, and I've done a bunch of albums under different bands, different names," Angelo says.
The debut marked the start of his musical career, capturing a youthful spirit that was present in the caves of Liberty Recording. "I remember sitting at the grand piano, and above me there was these cave walls, and the whole atmosphere of the thing, and I'm sitting there playing 'Checkout' and I'm going, 'This is just way too cool,'" Angelo says. "To this day I remember the feeling of that. There was something magical going on, something up there in the ether. It was nice for sure." words / j woodbury