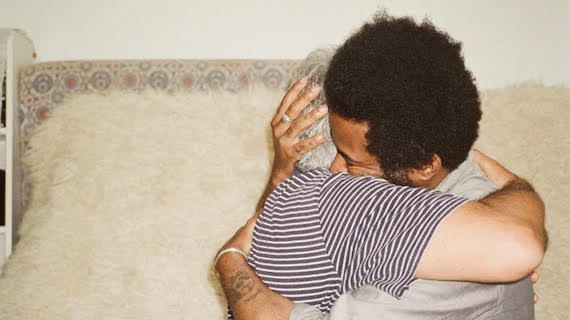 Some creative unions take time and labor to coalesce. For Robert Aiki Aubrey Lowe and Ariel Kalma, an artistic connection was established at lightning speed. A few conversations, a meet up in San Francisco, and then to Byron Bay, Australia, where the two took a few walks, got some coffee, and created We Know Each Other Somehow, the twelfth volume in RVNG Intl.'s FRKWYS series of collaborative albums. It's a gorgeous LP, a gentle unfolding of astral jazz and cosmic drones.
As electronic composers, the two are accomplished individually: Lowe is known for his Lichens project and work with bands like 90 Day Men and Om; The French-born Kalma began making music in the late '60s and has continued since, exploring Eastern modalities, ecstatic melodies, synth soundscapes, and jazz-inflected free sounds. Coming together, the elder Kalma immediately recognized a shared spirit in Lowe.
"The interesting part was I felt this familiarity with Robert through conversations we had, from the first moment," Kalma says.
Following the release of RVNG Intl.'s archival collection of Kalma's work, An Evolutionary Music: Original Recordings: 1972 — 1979, label founder Matt Werth expressed interest in releasing new music by Kalma. Werth suggested a collaborative effort with Lowe, whose admiration of Kalma's 1978 album Osmose served as reference point for the project.
Osmose was "a record I had cherished for quite a while," Lowe says. "When I first heard that record it really resonated with me, I think because of my particular aesthetic and how I listen to things and sort of take them in…it was something that resonated very strongly with me."
Osmose featured Kalma's ambient musical textures blended with Borneo rainforest field recordings by Richard Tinti, and the incorporation of natural sounds gives We Know Each Other Somehow a hypnotic quality, featuring bird calls on "Miracle Mile" and the gurgling sounds of moving water on "Magick Creek." The process of "tuning" synthesizers and reeds to the sounds of nature is one Kalma has long employed.
"That's what I've learned to do with Osmose," Kalma says. "That's why we call it 'osmosis,' because it's really the intimate connection between nature and instruments." The approach has roots in Kalma's first visit to India, and his impression of the natural harmony he observed there. "You know, they have the sacred cows in the streets — but they are silent — but the halls, the bicycle rings, the trains, the hoots; everything is relatively tuned," Kalma says. The same can be said of the album. Occasionally it drifts from meditative drones toward a kind of cosmic dance music, but there's an internal logic that shapes and unites each sound.
A film, Sunshine Soup, by directors Misha Hollenbach and Johann Rashid, serves as a companion piece to the album. Capturing serene scenes from Byron Bay and moments between Kalma and Lowe on handheld HD and 8 mm cameras, the film offers a visual display of the spiritual intimacy Kalma and Lowe share. It's this connection which inspires the title, We Know Each Other Somehow, a phrase Lowe came across in a science fiction novel.
"For this particular instance, coming together in this way," Lowe says, "those words together made a lot of sense." words / j woodbury
Ariel Kalma / Robert Aiki Aubrey Lowe :: Mille Voix