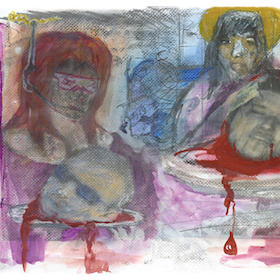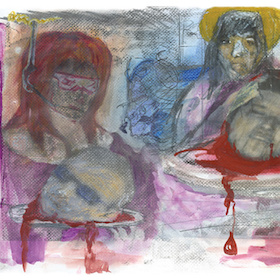 As with superheroes, team-ups between great musicians are not always recipes for success. But North Carolina's Three Lobed Records has cooked up some truly tasty collabs in the past — the killer  Steve Gunn / Hiss Golden Messenger LP, for instance, or the inspired pairing of Bardo Pond and Tom Carter.
This year, the label has another winner:
Qalgebra
, a thorny, delightful extravaganza created by Royal Trux/Howling Hex mastermind Neil Michael Hagerty and Wooden Wand's James Jackson Toth. Hagerty and Toth might not seem like the most obvious partnership, but they've definitely proven themselves to be adventurous souls over the years, each willing to follow their respective muses down some strange (but almost always rewarding) backroads.
The
Qalgebra
trip kicks off with "Spindizzy," a manic blast of skronked-out boogie that shifts gears abruptly into obtuse New Age mutterings. Side one continues in this vein, with both Toth and Hagerty sounding like they're enjoying themselves fully. The 18+-minute title track that spans the second side is a thing of schizoid beauty that slides effortlessly from raga-esque drifts to krautrock pulses, from harmonica-fueled hoedowns to fuzzy guitar breakdowns. There may not be any particular destination in mind here — it's all about the journey. Hop on board.   words /
t wilcox