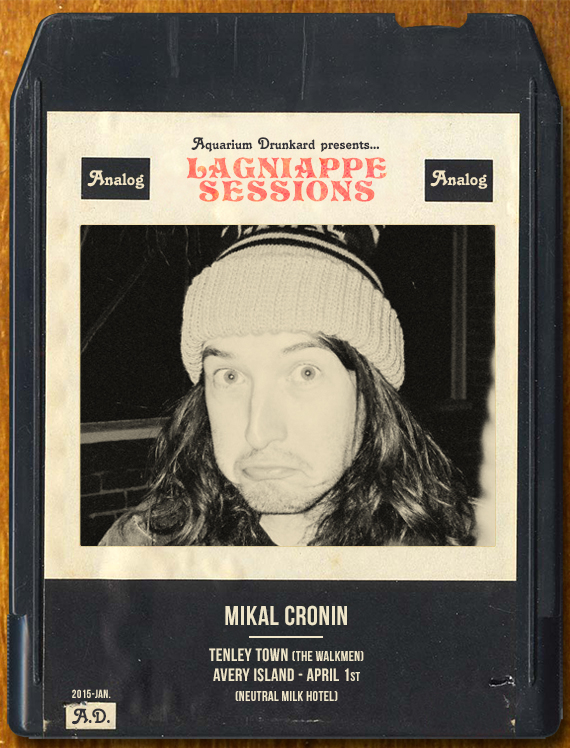 Lagniappe (la ·gniappe) noun 'lan-ˌyap,' — 1. An extra or unexpected gift or benefit. 2. Something given or obtained as a gratuity or bonus.
Mikal Cronin returns with his second Lagniappe Session for Aquarium Drunkard, reinterpreting Neutral Milk Hotel and The Walkmen "in all their 8-bitty sine wave synth glory". Cronin's 2013 ukelele-inspired session is still available, here. Mikal, in his own words, below…
Here they are, in all their 8-bitty sine wave synth glory. These tracks are listed in my computer under my solo electronic music name "Pony Soldier", based on the name of a hotel off the freeway I saw in Portland many years ago.
Mikal Cronin :: Tenley Town (The Walkmen)
The Walkmen are great. This was recorded in maybe 2007 or 2008, a few years after their record A Hundred Miles Off. I remember always being in awe of their production and how distinctly roomy and live sounding their records were. I don't remember why I decided to ruin that vibe with an electronic vocoder led cover. I didn't know how to program drum machines (still don't) so this was a combo of playing the drum sounds live on a keyboard, and then going back and painstakingly fixing it. I had nothing but time in those days. Recorded on some crappy keyboard my parents had at their house and borrowing my friends MicroKorg to use the vocoder.
Mikal Cronin :: Avery Island / April 1st (Neutral Milk Hotel)
Similar timeframe (2007/2008). Had a phase of listening to a lot of 8-bit music. I made some of my own 8 bit music, on a program that accessed the 4 channel sequencer of a Gameboy. Actually technically the first song I ever recorded was one of those 8 bit things ["Mango (in my) Backpack, circa 2005]. This is just on the same shitty keyboard with the sine wave setting. Neutral Milk Hotel changed my life musically and always thought this was a beautiful instrumental off their first record On Avery Island. Again, not sure why I decided to ruin that beauty with a keyboard cover…maybe because I could see it in a classic video game soundtrack in this incarnation….but either way it happened, and here it is!