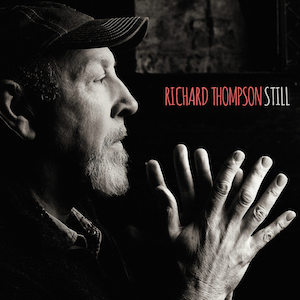 Like any artist who has been making records for close to five decades, Richard Thompson has tried out various modes and methods in the studio. He's worked with a variety of producers, from the legendary Joe Boyd in the 1960s to Mitchell Froom in the 1990s to Buddy Miller on 2013's invigorating Electric.
After all these years, probably the best approach for anyone working with Thompson is to just step out of the way and make it easy for the man do his thing — that wonderful thing that no other musician in the world is capable of. And that's what Jeff Tweedy seems to do on Thompson's latest effort, the powerful  Still.
Thompson has made more than 40 albums at this point, so it's easy to take him for granted. But this razor-sharp collection  deserves your attention, whether you're a longtime fan or a new convert. Recorded at Wilco's expansive loft studio in Chicago, Still boasts a classic-but-contemporary sheen that puts the singer-songwriter's distinctive guitar and vocals front and center, right where they should be.
As always, listening to Thompson on guitar, whether acoustic or electric, is pure pleasure; as an instrumentalist, he's incapable of a wrong or misplaced note, even at his most adventurous — check out his stinging, quiet storm of a solo on "Where's Your Heart," or the bravado, virtuosic display on the closing "Guitar Heroes" (wherein Thompson cheekily quotes Django, Chuck Berry, Les Paul and more, like it ain't no thing). He's also a great bandleader:  Still allows for plenty of dynamic interplay between Thompson and his crack rhythm section,  bassist Taras Prodaniuk, and drummer Michael Jerome.
The trio's easy rapport is evident on Still's second track, "Beatnik Walking," a travelogue with an infectious thump that belies some of the dark undercurrents of the lyrics. Thompson has always been attracted to the less pleasant sides of the human psyche, but he never loses his warmth and caustic wit. Take a listen and enjoy the work of one of music's few true masters. words / t wilcox