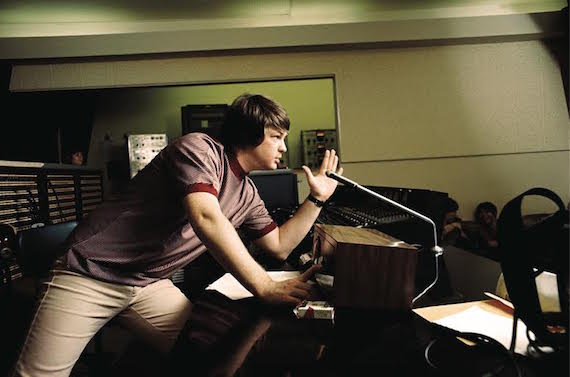 Brian Wilson opens his new album No Pier Pressure with a quietly profound lyric: "Life goes on and on, like your favorite song." Wilson has written many people's favorite songs over the last five decades — the rollicking surf rock of "Little Deuce Coup," "teenage symphonies to God" like "Wouldn't It Be Nice" and "God Only Knows," profound psychedelic laments like "'Till I Die," from 1971's Surf's Up — and over the last decade he's enjoyed a healthy surge of activity, finishing old Beach Boys business with Smile, exploring nostalgic territory with That Lucky Old Sun and collections of George Gershwin and Disney songs.
No Pier Pressure began as a follow up to the Beach Boys' 2012 reunion album, That's Why God Made the Radio and that band's triumphant 50th anniversary tour. Not surprisingly, the album's best moments feature former Beach Boys Al Jardine, Blondie Chaplin, and David Marks and evoke Wilson's classic West Coast pop. But it also charts new territory for Wilson, with producer Don Was assembling a roster of artists like Zooey Deschanel and M. Ward of She & Him, Kacey Musgraves, Nate Ruess of fun., and Sebu Simonian of Capital Cities to add modern touches.
Though not the most even effort — Wilson doesn't always sound natural with his guests — the record's highlights are warm and sweet, with songs like "Whatever Happened," "The Right Time," "Guess You Had to Be There," and "Half Moon Bay" showcasing Wilson's writing at its sunny best.
Notoriously terse in interviews, Wilson was nonetheless enthusiastic discussing the record with Aquarium Drunkard, as well as his role in The Wrecking Crew, a new documentary about the cast of Los Angeles session players that helped create Pet Sounds, and Bill Pohlad's biopic Love and Mercy, starring Paul Dano and John Cusack as Wilson.
Aquarium Drunkard: There are a lot of different sounds on No Pier Pressure — some dance elements, some pop songs, and lots of Beach Boys-evoking moments.
Brian Wilson: We wanted to make some good harmonies, like the 1960s Beach Boys harmonies. We wanted to make some good harmonies, you know, so people could enjoy it.
AD: "Runaway Dancer" has almost a disco sound. Did you listen to disco at all in the '70s?
Brian Wilson: Yeah, I did. It does have a little bit of that kind of a feel to it, it does. I wanted to try something different and new. What we did was we'd take a song, we'd write the chord pattern, then we'd write the melody, then we would write the words. And when it's done it's time to produce it, so I'd go in…I produced Nate Ruess, you know from a group called fun. and Zooey Deschanel on a song called "On the Island."

AD: Those people are obviously big fans of yours. Were you familiar with many of the folks that came in?
Brian Wilson: Yeah, we heard them on the radio a few years ago and we remembered them. We'd call them up and have them come down to the studio and they did. They learned really quick; they learned really fast.
AD: Do you have a favorite song from the record?
Brian Wilson: Yeah, my favorite is "Sail Away."
AD: I really like "The Right Time" — it has a great Beach Boys kind of feel.
Brian Wilson: Well, yeah, Al Jardine's on that one.
AD: "The Last Song" is really beautiful too, but it's kind of sad. What influenced your decision to close on a nostalgic song like that?
Brian Wilson: Well, we wanted to end the album with a farewell song. Which we did — I thought we did pretty good on it. I did a vocal on that one…it's a very sad kind of a song about breaking up with someone and the end of a relationship. It was kind of tough recording it.
AD: It sounds like there's a lot of emotion in that one.
Brian Wilson: There is. There really is.
AD: Do you feel like there are more people you might like to work with on the next one?
Brian Wilson: No, we're not going to have the singers, the guest artists, anymore. I'm going to make a rock & roll album, a tribute album to the really great guys of rock: Chuck Berry, Paul McCartney, Elton John. You know, the greats. We're going to do an album playing their songs.
AD: There's a new documentary out now in theatres, The Wrecking Crew, which you appear in. Have you seen that yet?
Brian Wilson: I did and I loved it. It's great.
AD: Those guys seem to have been essential in helping you realize your vision on Pet Sounds. You heard all those songs and sounds in your head –were those guys able to help you get those sounds you imagined on tape?
Brian Wilson: Yeah, they did. They helped me a lot. They really played well and I was very proud of them.
AD: There's another film coming out, Love and Mercy, a biographical picture about you. I understand you were consulted for that film?
Brian Wilson: Yeah, well I wasn't involved in the making of the film but I got to know the guy that played me when I was 25, 24 years old…and then the guy that plays me in the '80s.
AD: Was it difficult to watch that movie?
Brian Wilson: It was. It was very difficult because it brought back a lot of memories from when I was taking drugs and stuff. It was a rough one.
AD: Do you think that viewers are going to gain some understanding from you and your life from the film?
Brian Wilson: Yes.
AD: It must have been a trip watching Paul Dano portray you when you were younger. Watching the trailer, it's surprising just how much he looks like you.
Brian Wilson: It was quite an experience — it was very different.
AD: You say different; Do you mean good different or bad different?
Brian Wilson: Good different. Good different.
AD: It's been a real incredible run for you the last ten or so years — between Smile, Lucky Old Sun, the new record, and your other projects. Do you have any reflections on the last decade?
Brian Wilson: Each year has just got better and better. words / j woodbury
Related: Aquarium Drunkard Interview Archives