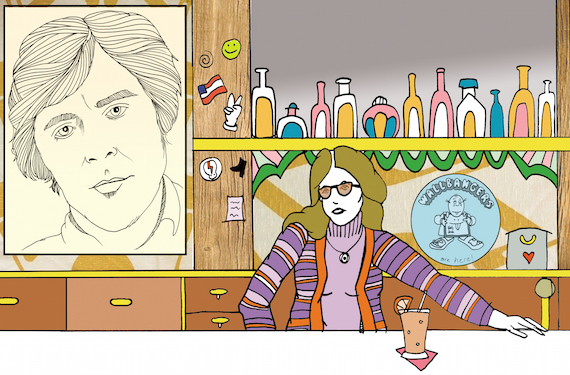 It was around 2006 when Zach Cowie shared with me the magic of folk crooner David Wiffen and his self-titled debut. Not easy to obtain, the first copy I was able to nab was a CD-R burned by an 80-year old Canadian named Andre, connected via a message board forum following many failed attempts to score the record via the usual suspects. It arrived with a cryptic post it note attached that read "DO US ALL A FAVOR AND DO NOT DUPLICATE". But how can one not share the beauty of a record that still to this day is so underappreciated?
Released in 1971 on Fantasy Records,  David Wiffen  can be fantasized as a road record with pit stops at a schmancy saloon — a collection of songs best experienced alone with something fun poured in a glass. The record was Wiffen's first solo studio record, produced by Ed Bogas. Mixing laid back Country folk with jazzy chamber music- magic really ensues upon the first track with the gutting opener "One Step" and into the sultry smoke ring jam "Never Make a Dollar That Way" (my personal favorite Wiffen song).
David Wiffen :: Never Make a Dollar That Way
The two most recognizable tracks on  David Wiffen include the cover "Since I Fell for You", a gorgeous showcase of that incredible baritone voice straight out of swoon city, and Wiffen's most successful song: "Driving Wheel", later covered by Tom Rush, The Byrds, The Jayhawks, Roger McGuinn and the Cowboy Junkies. Wiffen once said: "Driving Wheel" is an old blues expression. I thought it would be neat to ride, or have myself riding, on the "Midnight Special", which also is an age-old folk idiom. I was relying on the folk tradition. You lose your power, your "mo-joe" — the driving wheel makes everything work. You feel powerless."
David Wiffen :: Four Strong Winds
Little can be found on the former limo driver who disappeared from the limelight just as fast as he contributed a handful of outstanding records. I must mention the hauntingly beautiful  Coast To Coast Fever  is just as important, as well as his whopper rendition of "Four Strong Winds" on the  Live At The Bunkhouse Coffeehouse Recordings. It is these albums which represent a time and place of un-self aware life reflections. Songs without all the noise–songs right from the heartstrings, songs you can feel it instantly.
To this I salute the talented folk wisdom of David Wiffen, and to Andre-if you are still with us, thank you and, apologies for letting the secret out–but the world needs some good inspiration. words /art   jess rotter