One of my favorite things about collecting old records is the ephemera.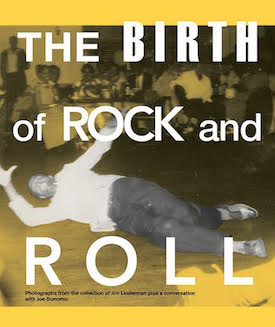 Dried and pressed flowers, photos, newspaper clips, love letters, stems. In most cases, I've kept each these artifacts with the record I found them in. It seems their natural place, sandwiched in the gatefolds, tucked behind paper sleeves. Taken on their own, they're valueless things, but beyond that, there's significance. They are reminders that music provides context; that sounds can serve as tools for decoding, memorializing, and documenting our moments. I think about these things flipping through the pages of Dust-to-Digital's The Birth of Rock and Roll: Photographs from the Collection of Jim Linderman, a collection of photos spanning the first half of the 20th century, compiled by Michigan-based blogger, Jim Linderman, culled from thrift shops, swap meets, garage sales, and exhaustive eBay searches.
Though many of these photos predate rock and roll's birth in a chronological sense, they exhibit the spirit which fueled its eventual explosion. String bands playing in beer halls, singers testifying in backwoods churches, couples dancing, women hoisting beers with wide grins — these photos serve as a sort of roots slideshow, documenting feverish Saturday nights and Sunday mornings like faded prophesies of what was soon to come.
"There've been hundreds of rock history books, probably in the last year alone, and they all analyze [the lifespan of rock and roll] as if it was a long time," Linderman says. "There's even a museum for the history of rock and roll. It's been 50 years! I thought, that's so absurd. How can I make that into something that makes sense? And that's sort of the genesis of the book."
Linderman maintains three photo blogs, Dull Tool Dim Bulb, Old Time Religion, and Vintage Sleaze (the latter is currently on hiatus) and is an obsessive collector of folk art, self-published conspiracy theory literature, bootlegs, and other examples of "eccentric, fugitive, undocumented creativity." The Birth of Rock and Roll is his second collaboration with Atlanta-based label Dust-to-Digital, following 2009's beautiful Take Me to the Water: Immersion Baptism in Vintage Music and Photography 1890-1950.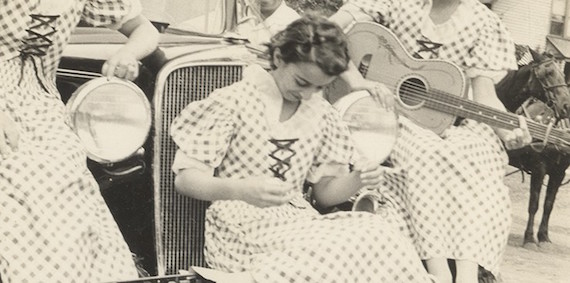 "I've sort of been trained all my life to look for things that haven't been appreciated or capitalized on, or brought to our attention," Linderman, a former librarian by trade, says. "It's sort of a consistent perspective I have on the world. Books, comics, art objects, whatever. I look for sort of an authenticity and scarcity because I like to discover things… I'm interested in things that are neglected, but I find them beautiful."
There's much revealed by the collected pictures. To look at them allows one glimpse these people as flesh and blood. These intimate snapshots — inclusive, by design, of race, gender, and in the case of some performers painted in blackface, ugly historical truth — find people reveling in the fullness and messiness of being alive.
"History is told by you and me and anonymous photographers," Linderman says. "For every Robert Johnson there were 500 people who didn't record. That's another part I wanted to get across — it's all from the down-up, not the up-down. Back in the hills there were plenty of people, and fortunately some people had cameras."
The photos are celebratory and unhinged, driven by human urges expressed through raucous sound. "There was a highly charged sexual component to party music," Linderman says. "There's food, water, and sex. That's what we are, and you pretty much combine that all in a fish fry down south." The black-and-white images all but obliterate the flimsy line between spiritual and physical ecstasy. "Gospel music gets pretty sexy sometimes too — I could tell that better in vernacular photographs than putting on an Amy Grant record," Linderman laughs.
The ultimate goal of the book, the author asserts, is recognizing and documenting a diversity of voices. "It's a big story, and it involved everybody," Linderman says. Those small moments, like small artifacts crammed into record sleeves or packed into shoeboxes under beds, tell our stories. They speak to not only what happened, but what's happening.
Listen to Dust-to-Digital's sprawling Birth of Rock and Roll playlist, compiled by Joe Bonomo, Lance Ledbetter, Jim Linderman, Bill McClung and Dan "Little Danny" Shiman. words / j woodbury