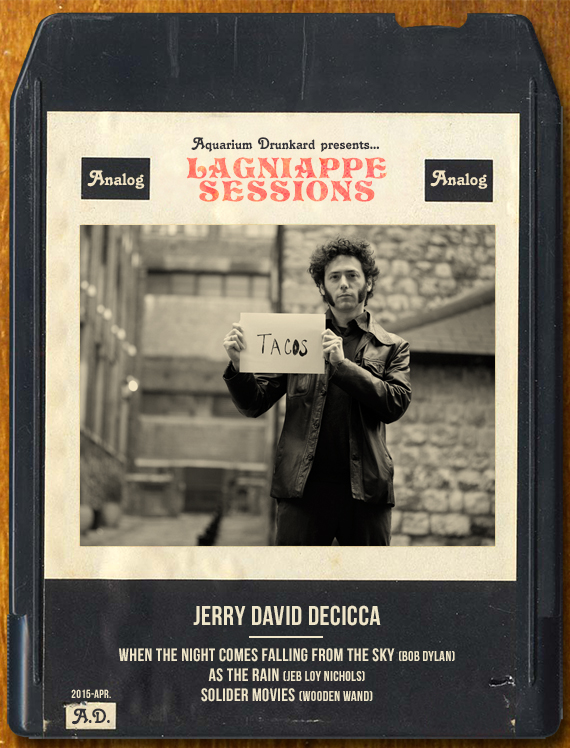 Lagniappe (la ·gniappe) noun 'lan-ˌyap,' — 1. An extra or unexpected gift or benefit. 2. Something given or obtained as a gratuity or bonus.
On the heels of his debut solo lp, 2014's Understanding Land, the Lagniappe Sessions return with Jerry David DeCicca. Below, the artist pays tribute to Wooden Wand, Jeb Loy Nichols and mid-80s Bob Dylan, via Empire Burlesque's "When The Night Comes Falling From the Sky" — marking Dylan's fifth appearance in the series. DeCicca, in his own words, below.
Infidels to Time Out of Mind is my favorite period of Dylan — it feels the most feral. This tune, from Empire Burlesque, is another one of his classic meditations lost in its own history. I took the song out of its minor key (as Dylan did on Bootleg Series Vol. 1-3 with the E Street Band) and stripped it to its skeleton, allowing absence to sheer Uncle Bob's terrain.
Jerry David DeCicca :: When The Night Comes Falling From the Sky (Bob Dylan)
Jeb Loy Nichols founded UK's country-dub trio, Fellow Travellers, and is responsible for the Country Got Soul comps that paved the way for Light in the Attic. He makes woodcuts and writes novels. And his solo albums owe a debt to Boz Scaggs, Turley Richards, and Dan Penn. I cut this song, "As the Rain", with Adrian Sherwood's 12" remix in mind using my Rhythm King (a similar model to the one used by Sly Stone and J.J. Cale) and a Concertmate 500 to riff on original's horns. Jeb's version is incredible – an actual masterpiece – and can be found on his album, Lover's Knot, and the Goodwill Hunting Soundtrack. Footnote: A 21 year-old-version of me makes an appearance in the video.
Jerry David DeCicca :: As the Rain (Jeb Loy Nichols)
It's easy to write a lot of songs, but it's tough to make even one of them good. Wooden Wand writes more great songs than anyone I can think of. His use of language is constantly inventive and engaging and the meat of the song is always substantive and half buried. "Solider Movies" is from Hard Knox album, a murky favorite. There's something about this song that reminds me of the film Over the Edge.
Jerry David DeCicca :: Soldier Movies (Wooden Wand)
Recorded & mixed at home by JDD, mastered by Jon Chinn.
Lagniappe Sessions Archives / imagery via d norsen.