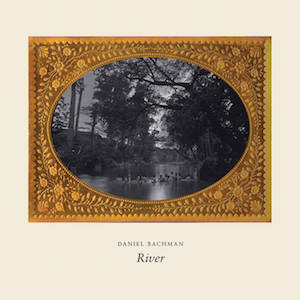 While previous Daniel Bachman records have been great, River feels like the American Primitive guitarist's first masterpiece. One might've expected that for his first LP on the adventurous Three Lobed label, Bachman might indulge some of his more experimental, psych-ier leanings (as heard on this freshly reissued platter from a few years back). Instead, he's delivered a solo acoustic tour de force that can easily stand proud next to John Fahey's Days America or Jack Rose's Kensington Blues.  It's that good.
River leads off with the kaleidoscopic, 14-minute "Won't You Cross Over To That Other Shore," one of Bachman's most ambitious works to date. But ambitious doesn't necessarily mean that he's getting flashy and overly complex; the earthy melodies, patient rhythms and resonating tones feel as natural and heartfelt as they come. Same goes for the album's other lengthy piece, the two-part "Song For The Setting Sun," a dazzler that features some breathtakingly beautiful playing to accompany its wistful mood.
As those lengthy numbers point towards the guitarist's future, he also looks respectfully towards the past: River pays  heartfelt tributes to two fellow Virginians and kindred musical souls — the aforementioned Jack Rose and 1920s bluesman William Moore.
All in all, the LP is confident and comfortable, while still maintaining the drive and energy of Bachman's previous efforts. Where he'll go from here is anyone's guess. For now, we'll just enjoy this River's flow. words / t wilcox