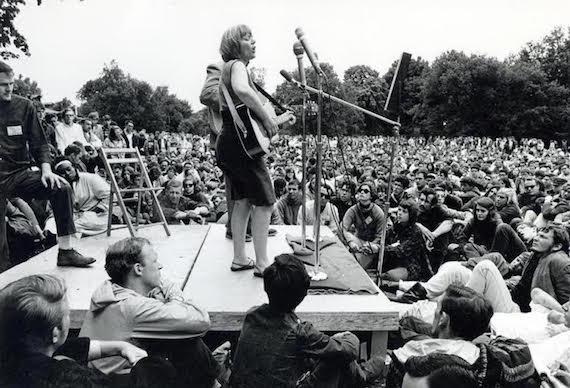 Late last year, you may have caught our coverage of Barbara Dane's "When I was a Young Girl," a somber cut off her 1962 album Anthology of American Folk Songs. With its nod to Harry Smith, that album was a time capsule (recorded in 1959), freezing in time the pre-Dylan coffeehouse songbook. Although folk was just beginning to cross the pop threshold, Dane's readings of standards like "Silver Dagger", "Who's Going to Shoe Your Pretty Little Foot", and even "Greensleeves" sound peculiarly low-key, more Grimm Fairytale than Hans Christian Andersen. In other words, this was not a hootenanny safe for the suburbs. There was still a willingness to tread the path of John Jacob Niles as opposed to the Weavers. To modern ears, the effect is disorienting. When I first heard Dane's voice–on the soundtrack of the French film, "Love Like Poison" (Un Poison Violent)–it sounded back-to-front, like someone singing folk standards in light of Sibylle Baier's minimalism and Nina Simone's melancholy. Androgynous and deep, tough and sad, there was no way that this voice was coming out of the era of martini-shaker.
It might seem, at a glance, that there existed only a narrow range of vocal registers available to white folk singers in the early 60s. Most women, admittedly, found themselves falling somewhere between the quiet Appalachian of Jean Ritchie or the soapbox arias of Joan Baez. Following Odetta (either on stage or on record) was ill-advised–nobody else was going to match the history embedded in that voice or the majesty of the delivery. But Dane nevertheless seemed happy to draw, wildly and un-prettily, all over the ven diagram of jazz, blues, and folk. Listen to Barbara Dane Sings the Blues (1964) and ask yourself: what other white singer, pre-Janis Joplin, was leaning so heavily on the legacy of Bessie Smith? What other white singer, pre-Karen Dalton, was digging such a deep furrow between black jazz singers and folk-blues? (Incidentally, right now, they're playing Bonnie Raitt where I'm writing this, and you can hear the same talky dips in phrasing that Dane was always throwing into her blues, making her voice go from roadhouse to dimly lit back room in a single word.)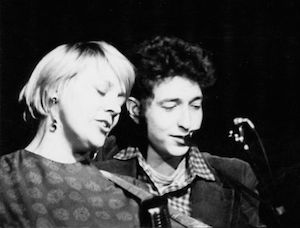 There is footage of Dane circa 1963 on a hilariously hokey TV special, Folk Songs and More Folk Songs!, sharing a bill with a baby-faced Dylan. But where Inside Llewyn Davis would have us believe that folk singers of the time were either authentic bohemians or simply jumping a bandwagon, Dane (and Dylan too, for that matter) poses a problem. She fits neither the Dave van Ronk nor The Mighty Wind mold. "Fare Thee Well" (aka "Dink's Song") acted as something of a motif throughout the Coen Brothers' film, but I just kept wondering how well an earnest, Mumford-y interpretation would have stacked up against Dane's raw, a capella version at the time. What would Llewyn Davis have made of her naked vibrato or the way she digs deep into the seductive-spiritual work song rhythms of the song? Would he (could he?) have heckled her off the stage at the close of the film?
Even more problematic to this black and white conception of an early-Sixties folk scene, is Dane's versatility. Here was a folk singer, after all, who had come up through New Orleans Jazz, singing with George Lewis and Kid Ory. Sure she might appear with corny living room jug bands, but she was also a singer just as capable of sitting in on sessions with Muddy Waters, Lightning Hopkins, and the Chambers Brothers. If you really want a sense of her range, however, you only need to listen to a single she recorded in 1960 for the short-lived Trey Records in Hollywood.
This is Dane's recording of the gospel standard "I'm On My Way to Canaan". In her interpretation (she is credited with her own arrangement), Dane drops the Canaan and refashions the song as a soulful, gritty prowler–one that seems to look forward to everything from Martha and the Vandellas to Amy Winehouse. The beat is unabashed minor-key Popcorn, the piano strutting along with little R&B flourishes, as if Dane were playing them herself, filling the gaps between each vocal line with defiant punctuation. We're swinging, but we're also approaching funk. Less than two minutes into the song we get a Brubeckian bass solo that prematurely quiets the whole thing down. The bassist moans along with plonking strings, juicing as much beatnik cool out of them as possible. Then, just as we discern, of all things, the strumming of acoustic guitar, the song shifts again, walloping the listener with a meatier groove. A horn section springs to life, stoking the engine of this gospel train. The horns burn, spluttering raunchily, cinders flying (Is this a spy movie? Is this West Side Story?). Dane now has what she wants, what she's been singing about this whole time–not a heavenly paradise on the horizon, but the autonomy to seek one out, to get there, to make it happen. It's over and done in three minutes, and the only thing left to do is play it over again, to follow Dane's liberating arc over and over again.
Again, just to make it clear, this was a singer who was about to record a downbeat album of folk standards, and here she is releasing a Soul single before Soul was even a category. In fact, 'I'm on My Way' was (surprisingly? unsurprisingly?) produced by Lee Hazlewood and Lester Sill, the very same year they took on Phil Spector as an apprentice.
The point, really, is that truly great singers don't confine themselves to genre; they take their talent, their character, their soul and let these inform the music rather than the other way around. Whatever style you find Dane singing, her voice tells you that she's not going to take any shit–as probably befits an artist who refused to sign a contract, started her own label, ran her own club, and eventually released an album titled I Hate the Capitalist System. All of which, if you think about it, was extraordinary for a time when most female artists (folk singers or not) were expected to keep it pretty. She was on her way indeed. words / dk o'hara
For Heads, by heads. Aquarium Drunkard is powered by its patrons. Keep the servers humming and help us continue doing it by pledging your support via our Patreon page.