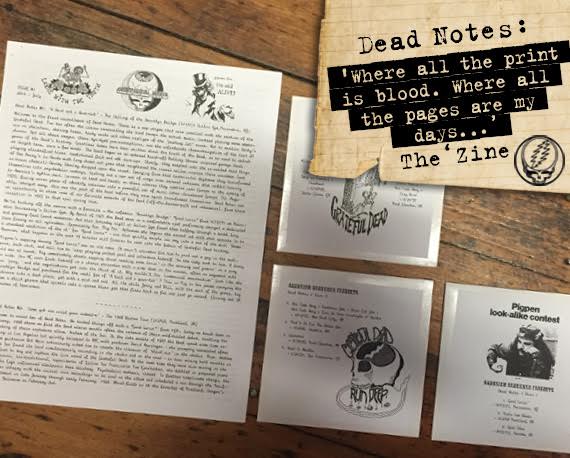 Dead Notes: "Where all the print is blood. Where all the pages are my days…"
Late last year we compiled all our Dead Notes columns into a print 'zine that heavily nodded to the early original issues of Relix, fan's parking lot flyers and iconic pieces of Dead history. Also accompanying the 'zine was the music of the columns packaged in several bootleg-esque slipcases. We made a few dozen copies and passed them out amongst friends and fans with a note encouraging them to make copies of everything and pass them along. Not only was this a success but we were able to get the entire piece into the Grateful Dead Archives at the McHenry Library at the University of California at Santa Cruz. Needless to say we were super jazzed to have Nick Meriwether and his team acknowledge our efforts to bring back some of original flare of the early Dead tape trading and fan art network. So please download, print out and burn copies of this set to share with your friends. It is our work as much as it is yours as fans of the column. And stay tuned, we've only just begun…
Download: Dead Notes: The Printed Word – Volume I (zipped folder)

(download includes the 'zine, all mp3s thus far and full-art cd covers)
We still have one of the original 'zine sets and our Dead Notes shirt for an AD reader. To land the package, leave a comment of what your dream opening set would be for the beginning of the Fare Thee Well run on July 3rd in Chicago.
The Dead Notes shirts are back in stock for the summer. Pick one up, here. If it gets too hot, cut them sleeves off.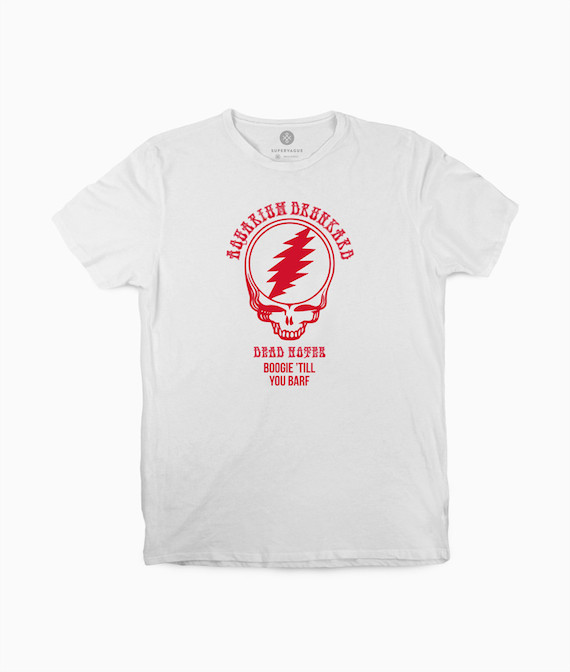 Only the good shit. Aquarium Drunkard is powered by its patrons. Keep the servers humming and help us continue doing it by pledging your support via our Patreon page. For heads, by heads.