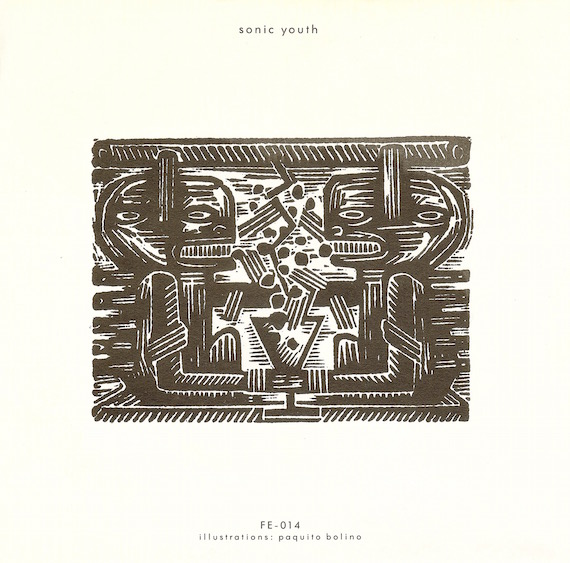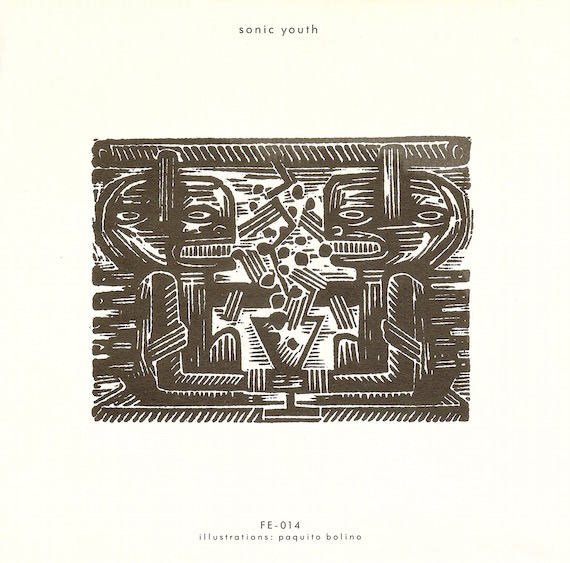 Unlike many bands that sprouted out of the DIY ethos set into motion by the release of Black Flag's Nervous Breakdown 7" in 1978, Sonic Youth were a few years into their long, influential run by the time that their first 7" was released in 1984 ("Death Valley '69").
While both sides of the "Death Valley" single were issued the following year on the group's incredible Bad Moon Rising LP, the single (released on the tiny Iridescence label) features early versions of both tracks that have a downright frightening rawness to them. It can be argued "Death Valley '69" was the first time the group found the sound that they are most known for — namely, adopting classic rock 'n roll song structure to Thurston Moore and Lee Ranaldo's reinvention of the role of guitar in a conventional rock band. The debut EP (1982) adopted their guitar skronk to post-punk rhythms, and while 1983's Confusion Is Sex delivers a macabre and terrifying hellish racket, "Death Valley" plays out like a twisted, fist pumping arena rock anthem from a bizarre world turned upside down and inside out. Sure, the intro scream isn't as convincing here as it is on the LP version, but there's a definite excitement on this recording, and the Thurston/ Lydia Lunch duet is in many ways a bit creepier here than on the full-length. In a way, I slightly prefer the single version of Kim Gordon's remarkable "Brave Men Run (In My Family)". The tempo is a tad slower, making the intro soundscape unfold in a chaotic way (a Sonic Youth trademark) beautifully setthing the stage for Kim's dreamy lyrics (words which are made even more interesting after reading of her inspiration for the song via her recent book). This single is marks the first time the band used the work of artist Gerhard Richter (a painting entitled Vesuv), whose candle painting (Kerze) iconically graces the cover of their masterpiece, Daydream Nation.
Sonic Youth :: Death Valley '69
Sonic Youth :: Brave Men Run (In My Family)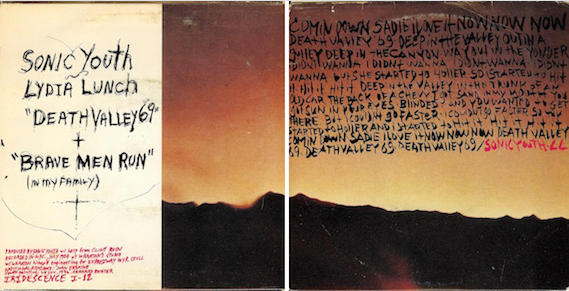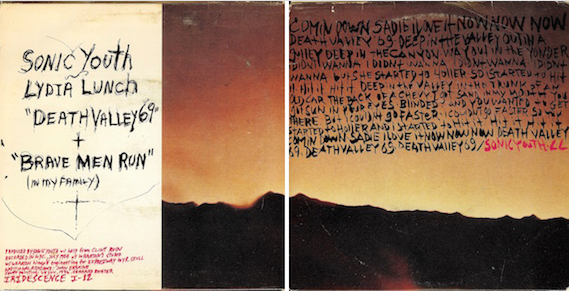 The next Sonic 7″, while released in 1985, features two recordings that predate the "Death Valley" single. Released as a freebie with Forced Exposure magazine, (Over)Kill Yr Idols features two BLAZING tracks recorded at a white hot gig in Berlin, 10/30/83. This entire show has made the rounds in trade circles for years, and it's well worth hearing as one of the greatest early live Sonic Youth documents. The dead wax inscription reads "Kim Gordon Rocks" and yes, Kim is rocking at a whole other level of intensity on this version, which in my opinion surpasses the studio take and is the definitive version of the track. Sonic Youth, thankfully, brought this track back onto the set lists in their later years, and the raging intensity was always a concert highlight. For the flip, "Kill Yr Idols" (originally released in '84 on a German-only EP, but a live staple of the band through many years) is retitled "I Killed Christgau With My Big Fuckin' Dick". While it can be argued whether the pen or the penis is mightier than the sword, there's no pussyfooting around the fact that this diss was aimed directly at NY rock critic Robert Christgau's dismissal of the early '80's NYC underground rock scene. As with the "Death Valley" single, the amazing artwork on this single was provided by southern California based artist Raymond Pettibone, who was already a legend in the underground world through his groundbreaking art on the majority of SST records releases.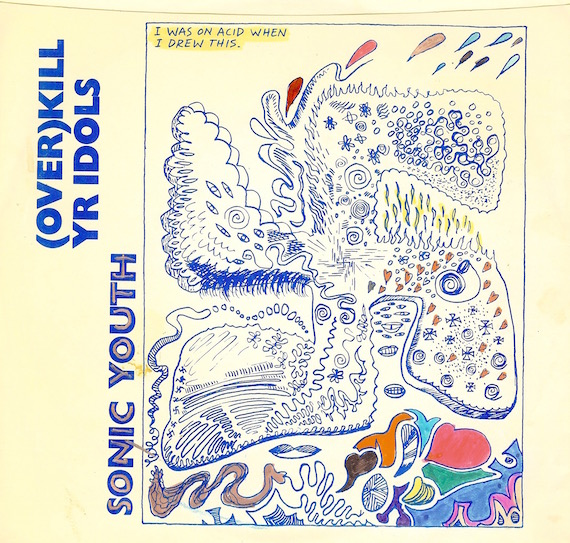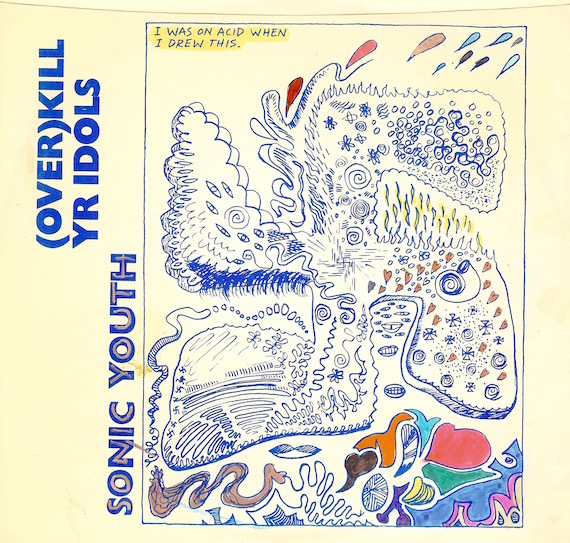 Sonic Youth :: I Killed Christgau With My Big Fuckin' Dick
Sonic Youth :: Making The Nature Scene
Our last entry is another release from Forced Exposure, September 1988. Issued a month before the epic double LP Daydream Nation, this single features two excellent live versions of Daydream tracks "Silver Rocket" and "Eliminator Jr" (heard here as an instrumental and retitled "Non-Metal Dude Wearing Metal Tee"), as well as a live noise blast titled "You Pose You Lose" which features Thurston's Walkman blasts onstage bleating out pieces of "Strawberry Fields Forever" (for years, Thurston used the Walkman to blast out freaky soundbites and familiar tunes to keep the flow while he and Lee switched or retuned guitars). "Silver" and "Pose" were recorded at Maxwell's, Hoboken on 6/9/88, and "Non-Metal" at CBGB's, 6/23/88 at shows which were dry runs for the Daydream Nation tour, and leaned heavily on the expanded reissue of that LP. Pocket Bolino's artwork is excellent, and is beautifully printed on textured paper for the sleeve.
Sonic Youth :: Silver Rocket
Sonic Youth :: Non-Metal Dude Wearing Metal Tee
Sonic Youth :: You Pose, You Lose
Previously: Wax Wonders Archives
(Derek See is a Bay area based musician who plays guitar with The Bang Girl Group Revue, Joel Gion & Primary Colours, and occasionally makes records on his own with The Gentle Cycle.)