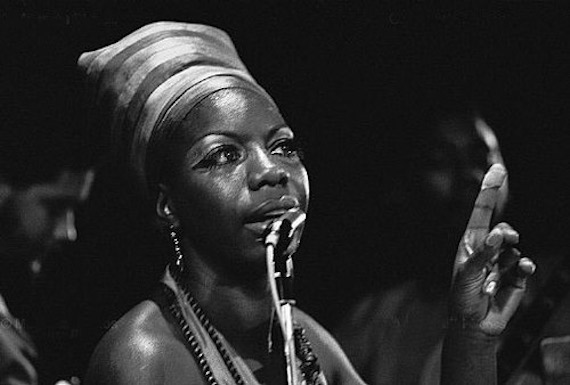 She begins in mid-flow. Sitting down at the piano, effectively taking the reins from her band, the first thing she says into the microphone is 'So…' One simple word, an aside to every single soul in that auditorium. It's almost a sigh, like the sound of a truth-teller getting down to business, or a teacher who is forced to go to the blackboard to spell it all out for us. It presumes that everyone is paying attention (they are) and that everyone recalls where they are in the lesson (they do). 'So…'
So this is what all those people who were able to witness Nina Simone in concert were talking about. This was why–once it had been established that you knew her name, had heard her voice–the next question was always going to be have you seen her live?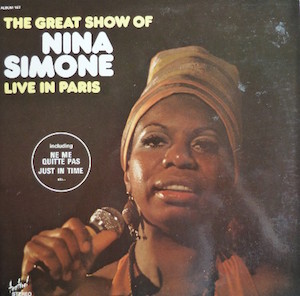 The title of The Great Show of Nina Simone: Live in Paris is only half-correct; it was, in fact, recorded during the second annual Montreux Jazz Festival in 1968. However, this unofficial and long out-of-print document is extraordinary because it catches Simone in her element: off the cuff, ordering the set-list herself, offering again and again the one-two punch of spiritual uplift and spiritual desolation that was her signature. On her albums, she may have been beholden to the wants of producers and her oppressive manager/husband, but here we find her cutting loose, playing what she wants to play and however she wants to play it. She is calling the shots, and the revelations come hard and fast: first and foremost, the energy in her small backing group (consisting of just bass, drums, guitar, with prominent organ/tambourine and vocal harmonies provided by her brother), but also the directness of Simone's performance. Always a volatile singer, Simone on this night has something she wants to impart and she knows how to get right to the point musically. This was, after all, an artist who just two months prior (in the immediate aftermath of Martin Luther King's assassination) had told her audience: 'I ain't about to be non-violent, honey.'
Nina Simone :: Intro & Devils Workshop
A song called 'Go to Hell' (here titled 'Devil's Workshop') is confrontational way to open a gig, if you think about it–more appropriate to the sinners beware side of gospel than the smoky night club. The earlier studio version is comparatively lighthearted, but here onstage Simone is free to unearth the gospel revival roots of her music, as if to prove that this is where it all begins. Underneath the jaunty rhythm there's now a threat, one that goes right into the heart of the blues.
Some say that Hell is below us
But I say it's right by my side
You see evil in the morning
Evil in the evening, all the time
You know damn well,
That we all must be in Hell.
But if this presents us only with desolation, there's still another point-of-view to be had. The very next song is the jazz standard 'Just in Time.' Set against the brimstone of the opener, the context of the song shifts. The familiar tune is suddenly turned into a recognition of grace, the possibility of providence. She's still standing her ground, testifying, but in a different way now (though this doesn't stop her from getting pissed-off when her brother's tambourine is played too loud). Again, the spirituality of lyrics and the slow-burning arrangement is what Simone is aiming for. But instead of hell, this time, we're headed for transcendence. Indeed, when she reaches the songs climax–singing 'change me, change me'–we know what she's yearning for, and we know it is more than just romance.
This dichotomy is something Simone plays with throughout the night, albeit as rendered by the album's editors (no full-length recording of the show was released). Song for song, she's nihilistically cutting us down, forcing us to confront the abyss, before building us back up again. It's no accident that the last song of the night (before the encore) is 'Ain't Got No, I Got Life,' which she had just released as a hit single (#2 in the UK). Here, she just calls it 'Life'. It's a song that dramatizes this same existential back-and-forth between nothingness and spirituality–but stretched out over 11 minutes, it's with even greater zeal and unapologetically religious urgency. 'Is the mic still on?' she sings, at one point, ready to still give more of her soul and to make sure her message has been hammered home.
Nina Simone :: Don't Let Me Be Misunderstood
More soul is what you get on all of these songs: 'Backlash Blues' is finally allowed to live up to its name; 'Don't Let Me Be Misunderstood' is refashioned as a work-song in which all the workers have skeleton faces; 'To Love Somebody' gets a cry-your-heart-out arrangement that stuns as much for its beauty as its self-assertion (I'm a w-o-o-o-man/Can't you see what I am?); even the night's first encore 'Gin House Blues' comes off as an impromptu blend of Ray Charles and Spencer Davis.
Nina Simone :: When I Was A Young Girl
But if you're looking for the evening's real show stopper, and one that cuts right to the quick of Simone scary genius then look no farther than the rendition of 'When I was a Young Girl' she offers here. A song Alan Lomax had collected from Texas Gladden in 1941, this Appalachian cautionary tale about wayward girls had by the 1960s become something of a folk-club staple (Simone recorded it on her album Folksy Nina in 1963). On this night in 1968, however, Simone silences her band, hits a few piano chords, and sings the first line. But something happens and she then tries it in a different key before taking the melody a cappella. It's so unrehearsed that the singer is instantly under the skin of the dying girl in the lyrics. It's chilling. (During her earlier performances you sometimes hear the audience chuckle at the line right out of the alehouse and into the jailhouse–but there can be no laughing now). If we aren't already devastated by the way Simone enters and dramatize a simple line like my poor heart is breaking, the return of her piano makes sure that we get floored. That fluttery Mose Allison-Nat Cole style of hers, careens down to the lowest register of the piano–until it finds one of those dark, funereal corners of the blues Keith Jarrett later nudged into during his Koln Concert. Like someone slipping under–and going not ungently–the depth here is dark and unfathomable.
Suffice it to say, Nina Simone could turn whatever style she touched into hers and hers alone. Her music was not Jazz or Soul, but her jazz, her soul. As Stanley Crouch rightly points out in the upcoming NetFlix documentary, What Happened, Miss Simone?, whatever mode you find Simone in (desolate, angry, seductive–sometimes all of the above) you do not mistake that voice for anyone else's, not ever, not even for a second. When she was at her best, she was Nina unadulterated, cutting loose and shaking free of whatever constraints were put upon her. And the greatness of this show is the fact that it is all Nina. words / dk o'hara
Only the good shit. Aquarium Drunkard is powered by our patrons. Keep the servers humming and help us continue doing it by pledging your support via our Patreon page.