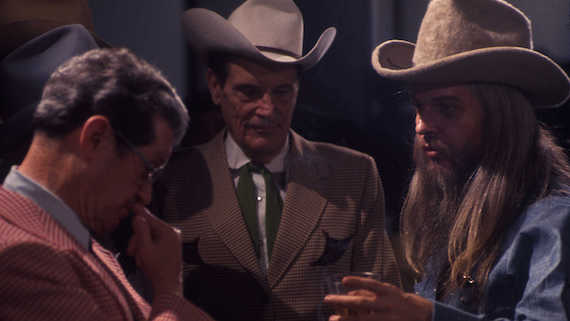 As one of the programmers of the annual DKTR Film and Music Festival, which is now in it's 12th year, I have watched countless films on musicians, bands, regional music scenes, record stores, and significant characters who have been involved with music. One common denominator of these films is that the subject matter rarely stands alone. The fans, the places where they came from, the people who surround and work with them are all a very significant part of their stories and their music.
In Les Blank's A Poem is a Naked Person, a film commissioned by and documenting Leon Russell's making of his 1973 album Hank Wilson's Back, we not only get to experience intimate recording sessions with the powerful piano genius Leon Russell, we also experience his fans, his interactions with fans, his friends, his fellow musicians and life in northeast Oklahoma in 1973. The film is as every bit as rambling, gritty, and passionate as our subject. There are very few staged interviews, the camera is left to capture all moments raw and objectively, from George Jones singing in the studio, to local residents catching catfish in the river. While there is an excitement every time you see Leon or one of the guest stars (Willie Nelson, George Jones, Mama Cass all make appearances) by the end of the film you find that the secondary characters are all just as impressionable.
While I've been a Leon Russell fan longer than I can remember, the film compelled me to really ruminate on who and what Russell's music exactly is. An Oklahoma native there is no doubt that Russell's music is deeply steeped in country and blues, but even in this film, where he is recording covers of country classics, you still wouldn't really categorize him with the likes of country piano players or even that of blues or boogie woogie. Leon's music is all of these things and more. While the argument has been made that rock 'n' roll stole from country and blues, it's almost as if Leon has done the reverse, keeping his feet firmly planted in an authentic southern sound with the added swagger and momentum of rock 'n' roll, an approach that makes it all completely uniquely Leon.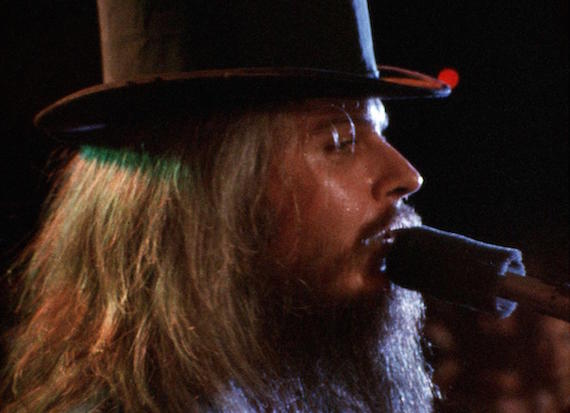 As a member of Los Angeles' Wrecking Crew, a group of session players who played on countless hit records of the 1960s, perhaps it's Leon Russell's background as a studio musician that gives him the ability to effortlessly mesh genres. He played on everyone from the Beach Boys' to The Byrds' albums. As detailed in the documentary film The Wrecking Crew Russell was not only a significant and respected player, but even as a hired gun, he quite defiantly walked his own path, getting into disputes with more than one notable record producer.
A unique documentarian, Les Blank not only often had musicians as subject matter, but focused on the cultural nuances surrounding his subject. His style is distinct with a poetic stream of consciousness feel to it, picking up and placing things together that sometimes have profound and precise meaning to them, and other times are just merely flashes of a faint feeling that's hard to shake. And perhaps this is why Les and Leon make a perfect pair. Leon's work pulls from far reaching influence and experience, and in A Poem is a Naked Person those nuances are all there in the form of everything that is around him.
But, at the time Russell must have felt differently, because as the film was set for release in 1974, he decided to shelve the project. When asked recently why it had taken so long for him to come around Russell said he didn't know, but that perhaps it was meant to come out now.
One of the most telling moments captured in the film is when folk musician Eric Andersen, in reference to Russell's music says, "I couldn't tell if you were a revivalist man, …I didn't know where it was coming from", Russell responds "That's my illusion, don't get too thrown off by that".
While at times it may be hard to decipher where Leon or Les are coming from, in the end it doesn't matter, because it is all meant to be enjoyed as one beautiful ride.
A Poem is a Naked Person premieres in Los Angeles as part of the DKTR fest, co-presented by The Cinefamily and The Ace Hotel July 8th at The Theater in The Ace Hotel. words / tiffany anders