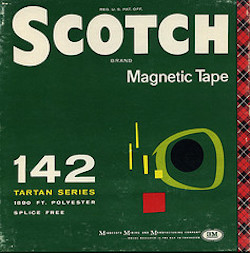 With the official release of (most of) the Matrix Tapes last year, there is very little unheard Velvet Underground live material left in the vaults. But there is a still-unreleased tape that should be heard, capturing the band during its last stand with Lou Reed at Max's Kansas City, 45 years ago this summer.
The details: Way back in 1999, a guy named Joseph Freeman showed up on a Velvet Underground online forum and posted the following:
"I recorded an entire set at Max's (around the same time as [Brigid] Polk's). The tape was recorded on a Sony TCS-124 a portable stereo cassette recorder with an external single stereo mic. The quality of the tape is very good and has never been bootlegged. I may be interested in having this tape surface as a legitimate release."
A legitimate release has yet to happen, and the only evidence we have of Freeman's tape is a sampler filled with one minute snippets of the VU set. This version of the band is very different from the one that emerged from the lower East Side in 1965 — John Cale was long gone, replaced by Doug Yule, and Maureen Tucker was on maternity leave, replaced by Doug's little brother Billy (who was still in his teens at the time).
So it's not the "classic" VU by a longshot — but  it's still cool stuff if you're someone like me, who wants to hear pretty much every note Sterling Morrison ever played. Even though Lou was just weeks away from walking away from the band, the latter-day Velvets still sound good, with some choice rarities (a Lou-sung "Oh Sweet Nuthin'" and "Head Held High") along with some wild reinterpretations ("What Goes On" and "Some Kinda Love").
As on the officially released Max's LP, Billy's overly busy drumming is no match for Tucker's minimalist thump, but that is OK. This is a more mainstream-leaning band — the VU as an awesome bar band, providing the perfect soundtrack for the glam goings-on at Max's. Let's hope that one day the Freeman tape will be set free. words / t wilcox
Download: The Velvet Underground :: The Freeman Tape Sampler – August, 1970
01 I'm Waiting For The Man
02 White Light/White Heat
03 I'm Set Free
04 Lonesome Cowboy Bill
05 Who Loves The Sun
06 Sweet Jane
07 New Age
08 Unidentified Instrumental
09 It's Just Too Much
10 Ocean
11 I'll Be Your Mirror
12 What Goes On
13 Head Held High
14 Oh! Sweet Nuthin'
15 Some Kinda Love
Aquarium Drunkard is powered by our patrons. Help us continue doing it by pledging your support via our Patreon page.