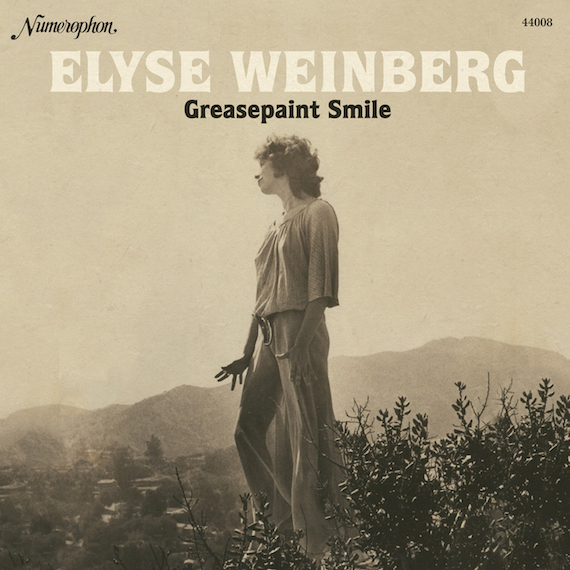 Elyse Weinberg is a longtime favorite of Aquarium Drunkard, whose husky voice was introduced to many via folk rockers Vetiver. In 2001, her long lost debut, 1968's Elyse was reissued by Orange Twin Records, a swooning, mystic effort bolstered considerably by bonus track "Houses," a laidback but insistent groover featuring searing lead guitar by Neil Young. Now, thanks to Numero Group's Numerophon imprint, one can hear that song presented in its original context, Weinberg's unreleased second LP, Greasepaint Smile, to be released September 18th.
Produced by Young's longtime partner David Briggs in 1969 and featuring Young, J.D. Souther, Kenny Edwards of the Stone Poneys, and a young Nils Lofgren on guitar, the record is a lowdown stunner, loose and funky on songs like "City Of The Angeles" and the winking "Your Place Or Mine," touched by the spirit on "Gospel Ship," given to full bore blues rock on "Collection Bureau," and achingly beautiful on "It's All Right To Linger." Over chiming acoustic guitars, fuzzed electrics, and a sympathetic rhythm section, Weinberg's voice is ragged and sounds far too world weary than her 23 years should allow. Her words follow suit: "It's all right to linger but it's no good to stay/when you feel in your heart there's a better way."
Tellingly, Weinberg didn't stay. Following a bumpy ride through the music industry's back streets – documented beautifully in notes by Jerry DeCicca – Weinberg took leave of Los Angeles, eventually settling in Oregon, where she's continued to make music as Cori Bishop. "While the 1960's were closing its doors, Weinberg graduated from Toronto folk clubs to crashing on Neil Young's Laurel Canyon couch to the Billboard charts within one prolific year," DeCicca writes. "But within a year, the bright lights began to dim and she quietly walked away. Informed by her astrological study and an awakened spiritual urge, Weinberg left the phony grin she sang about in Greasepaint Smile behind her and, with that, the music business." words / j woodbury
What she left behind, as is often the case, is worth hearing.