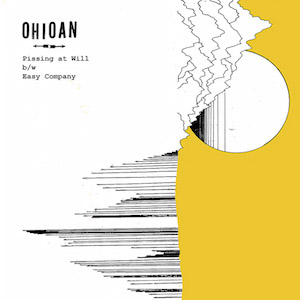 The music of Tucson's Ohioan, led by songwriter O Ryne Warner, is about many things, but chiefly, it is music about the concept of "place."
"From Roscoe Holcomb and the 'mountain minor' players to the Berber banjoists of Marrakech, Tinariwen's Tuareg guitar tradition, and the electric reverberation of country music throughout the Sonoran desert: we are bringing these far-flung influences together to reconcile where we come from, where are, and where we're headed," Warner writes of his upcoming album, Empty/Every MT, out early next year via Gold Robot Records. Following 2014's American Spirit Blues, the album is sun-worn and faded, featuring contributions from deep underground heroes Susan Alcorn, Arrington De Dionyso, and Tara Jane Oneil, aiding in expanding Warner's droning compositions.
"You'll never know where you're going unless you know where you're at," Warner says. "Any place you are living in, should be engaged with, touched and bled upon and cursed on occasion, but regardless felt as an entity available for dialog. You breathe its air, in and out." A Midwestern transplant "dusting up" in Tucson since Dia de los Muertos in 2011, Warner says the desert has informed his songwriting, but it's done so, "Indirectly, via the people around me that are changed by it. Just living here and talking to them, listening. Last year, I had the opportunity to attend a conference on water rights for the Hopi & Diné tribes, and that put a whole lot into perspective." Environmental themes weave throughout the songs of Ohioan – parallels between the mines of his native Ohio and in Arizona, the clear cut forests he saw in Oregon, the onset of climate change.
The sounds of Empty/Every MT are as connected to the soil as Warner's ecological themes. "…I grew up on hardcore and '90s NYC hip-hop," Warner says. "I remember specifically talking with Jef Brown of Jackie-O Motherfucker, who was giving me some theory lessons, and saying 'I think I really like modal music'…. which was just something i had read about in a description of a jazz record. And he took the time to really explain modal music to me and help me make these connections and then it was just the skies parted you know…. all the Sabbath riffs I like, the certain kinds of banjo tunes, the African trance grooves…. all modal."
With Ohioan, Warner draws lines from hillbilly folk songs to the desert blues of the North African nomads, from banjo players in Kentucky to banjo players in Morocco, separated by geography but spiritual connected by musical approach. "So this is all going on with me musically, combining Appalachian banjo music with African desert guitar music, as I'm simultaneously thinking about these environmental and mining concepts over the years, living in the desert and being from Appalachia….and it all just sort of starts cookin' into a bigger idea." words / j woodbury