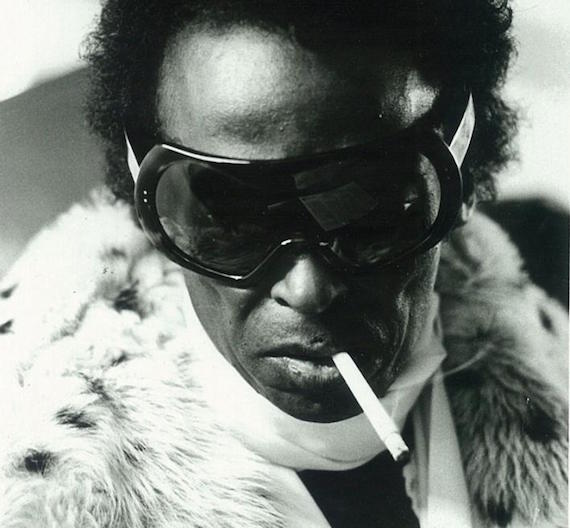 Some recent, recommended archival releases of (mostly) unreleased material from some jazz giants.
It'd take a whole lot more than four discs to sum up what Miles Davis was up to onstage from 1955-1975. But the trumpeter's latest Bootleg Series manages to give a solid overview, collecting performances given under the auspices of the Newport Jazz Festival (some of which take place at the actual festival, some of which take place in Europe and New York City). The names of the players are recommendation enough: Thelonious Monk, John Coltrane, Bill Evans, Cannonball Adderley, Herbie Hancock. Wayne Shorter, Tony Williams, Keith Jarrett and many more all contribute to the diverse array of sounds here. Fans will already be familiar with most of the 50s material on disc one — it's in the 60s and 70s when things start getting more interesting. There are two astonishing sets from Miles' Second Great Quintet (Hancock, Shorter, Williams and bassist Ron Carter), featuring feisty, free-bop excursions. There's a pre-Bitches Brew blowout, with powerhouse drummer Jack DeJohnette egging Davis onto some of the wildest playing of his career. There's an electrifying 70+ minutes from 1971, Keith Jarrett digging deep into unknown zones and bassist Michael Henderson providing an unbelievably rock steady groove. Best of all are the positively tectonic shifts and drifts of the Dark Magus band, captured in full flight in 1973, with guitarists Pete Cosey and Reggie Lucas blazing away. While there's a seemingly endless amount of Miles Davis live action already extant, the Bootleg Series proves once again that the bottom of the barrel hasn't been scraped yet — not by a long shot.
Resonance Records has made a name for itself in recent years as a jazz label adept at digging up some true treasures, many of which have never even been bootlegged. Their new Wes Montgomery collection, In The Beginning, is another winner. The two absorbing discs are made up mostly of previously unheard, mid-50s live material recorded in Indianapolis before the pioneering guitarist hit the big time (along with some newly discovered studio cuts, including a 1955 session produced by none other than Quincy Jones). These are amateur recordings, but they're surprisingly clear for 60-year-old tapes, and the after hours vibe is just perfect — "you can almost taste the smoke in the air," writes Pete Townshend in the liners. And the music here is far from juvenilia: Montgomery's unmistakeable technique and cool approach is firmly in place. No matter how casual the setting of these gigs may have been, he always seems to firing on all cylinders, playing dazzling runs that probably made other guitarists want to hang up their axes for good. An invaluable addition to the Montgomery canon.
Wes Montgomery :: After You're Gone
In The Beginning gives us a look at a musical genius in his pre-fame days. Duke Ellington's Conny Plank Session, recorded in 1970, gives us a look at a musical genius in his twilight. You read that name right: this is the same Conny Plank who would go on to become one of the primary architects of the 1970s Krautrock/Kosmische sound, producing groundbreaking albums by Neu!, Kraftwerk and Cluster, to name just a few. Don't let your imagination run too wild, though; if you're hoping for a "Take the A Train" / "HalloGallo" blend, you should look elsewhere (perhaps in some other galaxy). But The Conny Plank Session is still fantastic. What we've got here is a beautifully recorded, all-too-brief example of the Ellington Orchestra in its latter days, with Duke sounding fit and fiery, leading his band through several takes of two tunes. By the end of the session, they seem just about ready for blastoff. Maybe that other galaxy wasn't too far off… words / t wilcox
Duke Ellington :: Afrique (take 3 vocal)
Only the good shit. Aquarium Drunkard is powered by our patrons. Keep the servers humming and help us continue doing it by pledging your support via our Patreon page.