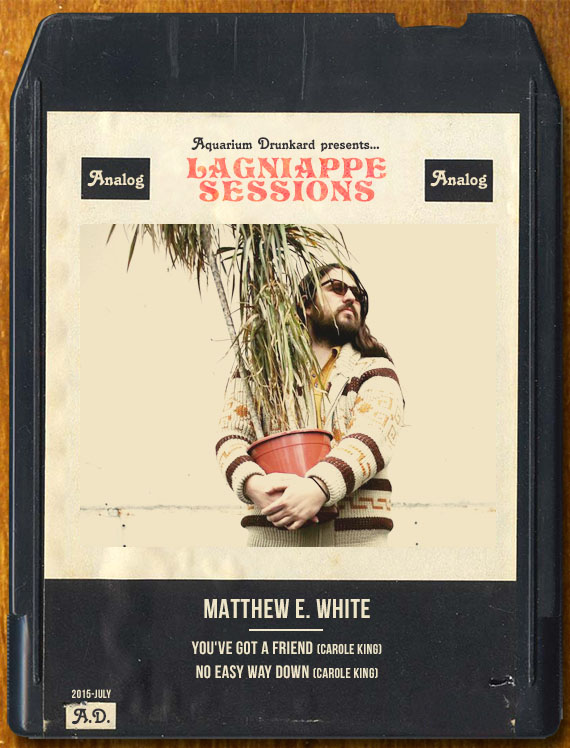 Lagniappe (la ·gniappe) noun 'lan-ˌyap,' — 1. An extra or unexpected gift or benefit. 2. Something given or obtained as a gratuity or bonus.
Matthew E. White presents Tape-estry featuring Bedouine – a digital 45 of Carole King songs recorded on a 4-track in motels across America. This is White's second Lagniappe Session for AD. Listen to the 2012 session, here.
__________________________________________________________________________________
It all started when we wikipedia-d Carole King's writing credits in Austin, then I met an completely magnetic artist called Bedouine in LA, the band had an off day in Pasadena and we drank Sailor Jerry's in our motel room and laid down "You've Got a Friend" on my Tascam 4-track my parents got me for Christmas when I was 15. Somewhere in the thousands of high hills between Boise and Minneapolis we tracked "No Easy Way Down" and on our last day off I crawled into an attic and sang these loosey-goosey vocals. After our fortuitous meeting in LA I had asked Bedouine if she would sing on these tracks, good god almighty she can sing. The final step was to send the music back to her and she laid down some transcendent backgrounds that perfectly match the tape drenched outer space that the band had found ourselves in. I should say a note about Carole King. She is magnificent, a giant of our time, maybe the finest all around songwriter to walk the earth, there is no one like her, she is an American icon. I'd like dedicate all these memories and the music they produced to her.
Matthew E. White :: You've Got a Friend (Carole King)
Matthew E. White :: No Easy Way Down (Carole King )
Lagniappe Sessions Archives / imagery via d norsen.