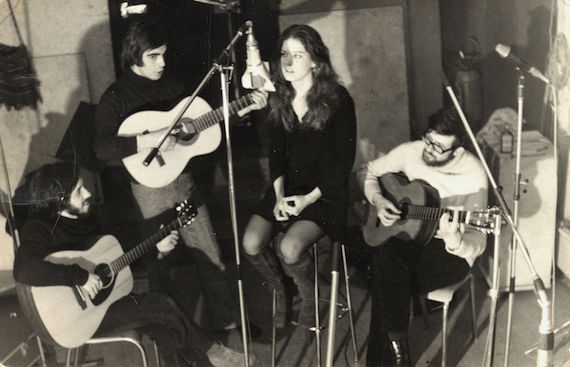 Christiana Wallman passed away in June in Pinehurst, North Carolina, at the age of 63. Those who know about the album she recorded under the name Tia Blake have long puzzled over her backstory, which in some ways, is just as hazy and enigmatic as the music she made. Here are some stray details: she was born in Georgia to a father who may have been a CIA agent and a mother, Joan Blake, who would go on to establish the Canadiana landmark that was Double Hook Bookstore in Montreal. She herself spent most of her life as a writer (article in Granta, play at the New York Fringe Festival), but very briefly, she refashioned herself a folk chanteuse in Paris. It was there, circa 1970, that she fell in with a group of musicians and cut an LP of folk standards for a small and unglamorous-sounding French label, Société Française de Production Phonographiques. Such was the scale of the production, in fact, that a number of copies were misattributed to 'Tia Blake and His Folk-Group' despite Blake's beautiful visage appearing on the album cover. There followed a lone gig at the famed Théî¢tre du Vieux-Colombier, then a relocation to Montreal, then a few tracks (never used) laid down in a CBC studio–and that was all, the end of Tia Blake as a recording artist.
However, Folksongs & Ballads, despite its throwaway title and the transparent objective (pretty American in Paris sings a bunch of tunes in the public domain î la américain) is anything but run of the mill. For all intents and purposes, an album of songs lifted straight from the Peter, Paul and Mary songbook–produced at a time when the Sixties folk revival had long run its course–should be little more than a coffeehouse curio. And yet, what we hear on this record is remarkable, sometimes hauntingly so.
What haunts us is the melancholy richness of Blake's voice, simultaneously whisper-soft and world-weary. It helps, too, that she and her band seem to know their Francoise Hardy about as well as their Joan Baez. If the repertoire seems to imply a world of pre-Bob Dylan postcard folk, the songs themselves play out like post-Sound of Silence, post-Songs from a Room letters home–intimate, lonely, low-key, shot through with old school ennui. Throughout, we hear a young woman far from home, having learned all too well that blues run the game. Yes, it may sound as innocently makeshift as a Brill Building demo, but its a naiveté (Blake was just nineteen at the time) that manages somehow to get under the old, worn-out skin of these songs.
Case in point: Blake's rendering of "Children Go Where I Send Thee." As in the Peter, Paul and Mary version, the song is here titled "Jane, Jane"–but gone is the background chant that accounted for the name change. All that's left is the minor key arrangement, slowed to the pace of a nighttime stroll. In fact, when I first encountered Blake's music through a Numero Group playlist featuring this song the effect was disorienting. I already knew this old spiritual, with its nursery-rhyme choruses, its surreal Cuckoo-like appropriation of folksong tropes. My grandfather used to sing it, my mother used to sing it. Tennessee Ernie Ford sang it. Nina Simone sang it. And still, listening to Tia Blake's downbeat version, even at the point at which she started singing familiar lyrics, I couldn't recall how exactly I knew what I was listening to. It was ghostly.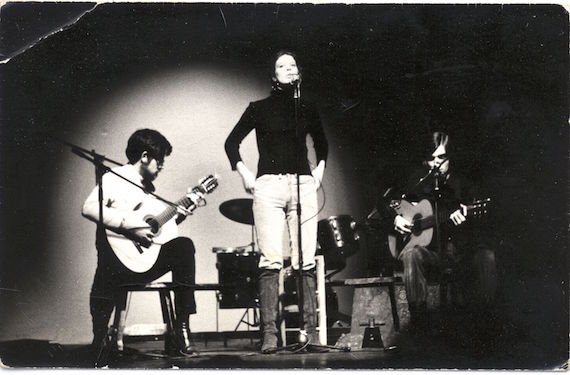 The guitars pluck away, lullaby soft, while a loping rhythm drives the tune further and further into dreamy territory: skip-rope prophesies, dogs that talk, cows that pray on Christmas morn. But the thing that really startles is Blake's voice. The place-holder first line–Hey, hey my lord and lord–is delivered by Blake in the style of a secret, her hands cupped to your ear. It's a masterclass in understatement: one breath, one line, and Blake is already leading us into that slightly scary place where folksongs dislocate from time and place and become unknown quantities again. Blasts from the past, maybe, but it's a past too far back to remember fully. Hence the ghosts, hence the haunting.
Something similar occurs during 'Plastic Jesus.' Here we have a jokey faux-trucker song that had become something of a folk club staple before Paul Newman wrenched the heart out of it in Cool Hand Luke. What's surprising is that even though Blake doesn't come close to replicating Luke's tearful rendition, her laidback vocal still manages to locate something of the same lonesomeness in that melody (turning it into something Karen Black might have sung absentmindedly from the passenger seat in Five Easy Pieces). The band is bouncing along beside her, but they never overtake the essential somberness of the vocal, a wistfulness that manages to speak volumes more than the dopey lyrics ever could. Although 'Plastic Jesus' undoubtedly provides one of Folksongs' lighter moments, it is, like the rest of this album, anything but lighthearted.
Track for track, the unselfconscious melancholy of Blake's voice quietly reclaims these songs. She quiets them down and airs them out in a way that few folkies dared (Jean Ritchie and Shirley Collins spring to mind, certainly–but more often than not it's Vashti Bunyan, Sibylle Baier, and Nico you find yourself reminded of). Maybe think Ladies of the Canyon but turned down low at 4 a.m. "Polly Vaughn" in such hands comes across as an atmospheric slice of psychfolk. "Betty and Dupree" is a play of light and shadow, a Badlands story by way of Bridget St. John. "Hangman," meanwhile, re-supplies all the rejection and hurt that Led Zeppelin left off of "Gallows Pole"; again, it's her voice calling us down into the authentic grain of the song. Hearing her sing slack your rope, Hangman, you can't help but witness the song's simple details from right there on the scaffold.
Another stand out is "Wish I Was a Single Girl Again," a song which has been prone to plaintive, old-timey rocking-chair arrangements. The soft-footed Peter, Paul and Mary version provides a proto-"Blackbird" template here, but Blake's band again softens the song up even further, loosening its step, giving its forlorn narrator a little more living breathing life than a simple "bored housewife" cliché. Blake–without the slightest hint of pining–vocally lends the last few lines a thousand mile stare:
When a fella comes a' courtin' you, and sits you on his knee,
Keep your eye upon the sparrow that flits from tree to tree
And you'll never wish you were a single girl like me.
In Water Music's recently expanded edition of Folksongs & Ballads (culled from materials housed at the Southern Folk Life Collection, UNC Chapel Hill) a rehearsal tape of "Single Girl" ends with one of the musicians asking, 'Something like that, right?…That's the humor, the atmosphere you want?'–and then there's sound of Blake's voice (again the nineteen-year-old girl, maybe stifling a laugh at the use of the word 'humor') giving any easygoing yeah. words / dk o'hara
Only the good shit. Aquarium Drunkard is powered by our patrons. Keep the servers humming and help us continue doing it by pledging your support via our Patreon page.