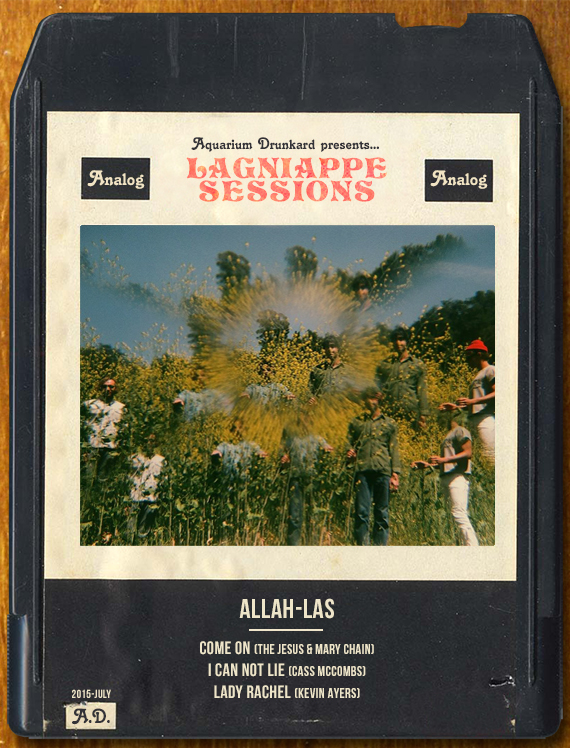 Lagniappe (la ·gniappe) noun 'lan-ˌyap,' — 1. An extra or unexpected gift or benefit. 2. Something given or obtained as a gratuity or bonus.
Matthew Correia, Miles Michaud, Pedrum Siadatian, and Spencer Dunham are Allah-Las. This week's session finds the band recording an inspired set in a Topanga Canyon pump house, covering three tracks spanning 1969-2004. The band, in their own words, below. . .
Allah-Las :: Come On (Jesus & Mary Chain)
We recorded these covers in an old pump house in Topanga with our friend Kyle Mullarky. The Jesus & Mary Chain are among our favorites and this song especially because it's so much fun to play.
Allah-Las :: I Cannot Lie (Cass McCombs)
Cass has long been a favorite musician and songwriter of ours and a legend in the LA music scene. We wanted to pay our respects to the man and all shared a love for "I Cannot Lie".
Allah-Las :: Lady Rachel (Kevin Ayers)
"Lady Rachel" is one of Kevin Ayers' best songs and we all went through a period of being obsessed with it. The music and lyrics are so perfect and draw you into the eerie world he's created. It's a song that's hard to categorize. We started off with learning the guitar part for fun but it quickly evolved into us working out the whole arrangement and recording a cover.
Lagniappe Sessions Archives / imagery via d norsen.