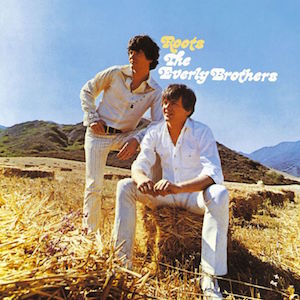 The Everly Brothers released Roots in 1968, a pioneering country-rock album that found them covering material from their influences both past and present — including the likes of Merle Haggard, George Jones, Jimmie Rodgers and Randy Newman.
Bookended by clips from Everly Family's 1952 radio show, the album transcends time, bridging the past, present and future of both the group and the music that had traveled alongside them. An outlier in their catalog, the lp finds the brothers delving deeper into both country and psychedelic rock, helped in no small part by the guitar arrangements of Ron Elliott, whose band The Beau Brummels had just recently embraced more country-tinged arrangements themselves, with their 1968 lp Bradley's Barn.
Here, the Everly's fashion a rolling, wistful rendition of Merle Haggard's "Mama Tried", with subtle accents of shimmering, cosmic pedal steel and the rambling of Ron Elliott's psychedelic guitar, painting a vision of a drifter's desert Americana — the existential unknown existing outside the narrator's jail cell. They treat Glen Campbell's "Less of Me" with sweet serenity. The guitars entangle and twang in celebration of the tune's new morning clarity. Digging further back with Jimmie Rodger's "T For Texas," the Brothers expand the song into two sections: one part propulsive psychedelic rock, complete with wah-wah guitar, and the other a swaying, languid porch-swing kind of country.
The Everly Brothers :: I Wonder If I Care As Much
In one of the most interesting takes on the record, the Brothers rework their own "I Wonder If I Care As Much." The sparse and sorrowful dusk of the 1958 original melts into the early canyon light of Elliott's guitar drones and the Brothers' slow, tranquil delivery. Like the sky just after a lightning storm, it quietly peers through the haze to reveal hints of a brighter, translucent brilliance.
The Everly Brothers :: Illinois
The most striking and surprising delight of Roots is the Randy Newman penned "Illinois." Though never recorded by Newman himself, he still managers to anchor the Brother's recording, with his buoyant, countrypolitan piano arrangement. Tipping his hat to Vince Guaraldi and prophesying Sufjan Stevens in the same breath, "Illinois" is a beautiful and joyous piece of music. It's the transient embrace of a breeze carrying the Brother's harmonies across the skies of yesterday, today and tomorrow. words / c depasquale