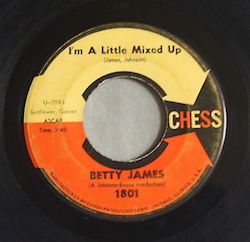 Discovered on the Baltimore club scene in the 1960s, Betty James cut six original sides of raw, sizzling, rhythm and blues for Chess Records. Though largely obscure (she's been artistically dormant since her last recording in 1966), James best-known track was 1961's "I'm A Little Mixed Up". With her husband on guitar and son on bass, Betty's bold, brazen voice delivers a cool, sure-handed reproach of infidelity. As a band, the groove plays nice and loose, with a thumping bass line and scrappy electric guitar. Raw, gritty and cool.
Betty James :: I'm A Little Mixed Up
Betty James :: I'm Not Mixed Up Anymore
The next year, in an amusing self-referential move, Betty cut a sequel of sorts with 1962's "I'm Not Mixed Up Anymore." A chugging, high-spirited, country blues, Betty and a group of backup singers welcome home her troublemaker, though one can't help read a knowing wink in the title. Tunes like "Help Me To Find My Love" and "I Like The Way You Walk" fully display the lean, effortless groove of the band; with Betty's cool, sultry delivery gliding alongside her husband's guitar, ripping like it were doused in gasoline.
Betty James :: Help Me To Find My Love
Betty James :: I Like The Way You Walk
Singing the blues with her booming baritone and dark turn of mind, "Henry Lee" slinks out of the speakers with its electrifying riff and rhythmic strut."You got the blues in your coffee / and the church all in your shoes," she sings. What exactly that means doesn't matter as much as how good it sounds coming from her voice. "Salt In Your Coffee" slows things down for a sinister, bluesy vamp. Like a paranoid nightmare murder ballad, Betty's stretches out her voice and sleepwalks into the streets, not seeing the light.
Betty James :: Henry Lee
Betty James :: Salt In Your Coffee
Given the unique quality of these six sides, it's a crime Betty's music isn't more widely known. Her vigorous tone, twisted originality and gritty, blazing family band all point to a lost legend. words / c depasquale