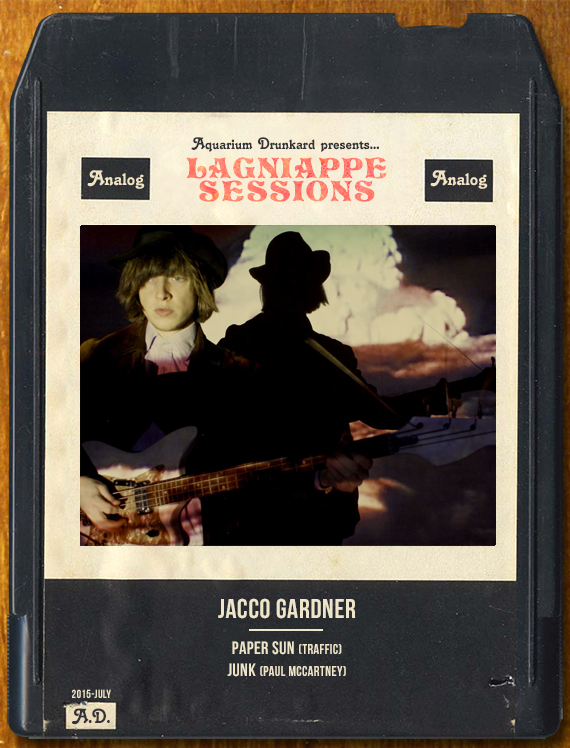 Lagniappe (la ·gniappe) noun 'lan-ˌyap,' — 1. An extra or unexpected gift or benefit. 2. Something given or obtained as a gratuity or bonus.
Earlier this year, Dutch baroque psych-pop traveler Jacco Gardner released Hypnophobia, his second full-length, via Polyvinyl Records. A lush, swirling cavalcade of sound, Gardner continues to mine the set of influences introduced on 2013's Cabinet of Curiosities, only here, things are decidedly more 21st century than its predecessor.
This week's Lagniappe Session finds Gardner rendering instrumental, sythn-laden, covers of Paul McCartney's "Junk" (originality found via McCartney's 1970 home recorded solo debut) and Traffic's "Paper Sun". Gardner, in his own words, below. . .
__________________________________________________________________________________
Jacco Gardner :: Junk (Paul McCartney)
"Junk" is a really great Paul song, one of his best I think. It has such good melodies, harmonies and chords that I couldn't help but wonder what it would sound like if all instrumental and sung by synths. It was quite inspiring to figure out all the parts that make up this song and find out how great of a songwriter (and guitar player) Paul actually was. This one was a little more tricky because I don't think the original could do with any improvement, but it was actually really fun to do a synth version. All the synth sounds were done on an ms20, including the drum sounds.
Jacco Gardner :: Paper Sun (Traffic)
Really nice melodies and a great structure. Lately I'm listening to a lot of those synth/soundtrack guys like Mort Garson, Johnny Harris, Claude Denjean, Perry & Kingsley etc, and it seemed like a cool idea to do a similar groovy slightly electronic instrumental version of a 60s song, like those guys would do. I really enjoyed working on it. Nicola (who plays drums on the new record) was able to lay down some drums.
Lagniappe Sessions Archives / imagery via d norsen.