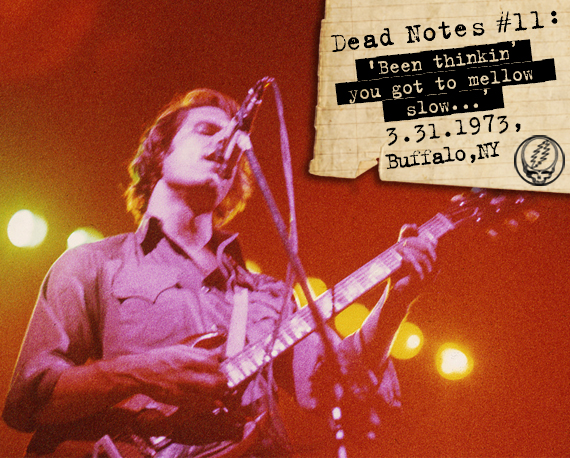 Welcome to Dead Notes #11. Forty-two years ago, in the early days of March of 1973, Pigpen and a photographer friend sauntered into the band's rehearsal space at Stinson Beach Community Center with the hope to have his 'final' picture taken with the group. They instead, as friends often do, razed him about his request and a heartbroken Pigpen left empty handed. Days later on March 8th, Pigpen was found dead in his apartment from internal bleeding following years of alcohol abuse. Distraught, yet wanting to honor their fallen friend, Bob Weir and Robert Hunter (who famously said 'If there is one thing I learned from Pigpen, I think I am going to get drunk and have a real good time') threw a party of bacchanalian excess at Weir's new Mill Valley home. Folklore says it was an orgy outside and informal wake / riot inside, as hundreds of fans, family and band members descended upon the property. When Pigpen was finally laid to rest, with his tattered leather jacket and cowboy hat, it was under a stone that read 'Pigpen was and is now forever one of the Grateful Dead'. A despondent Garcia almost folded the group that week, declaring 'That's not Pigpen in that coffin. That's the Grateful Dead.' Instead he and the band responded to his ill-timed passing by creating new life as they began to flesh out a series of new songs that further synthesized their unique blend of jazz, rock and folk.
A few weeks later the band skid into a languid "He's Gone", deep in the second set, at Buffalo's War Memorial Auditorium. Originally written about Mickey Hart's father, the band's former crooked manager, the song quickly became an elegy for lost brethren — beginning with Pigpen. As Jerry croons in unison with Phil's goofy harmonies — Bobby and Billy set a steady rhythmic pulse shuffling the band into a long, rambling jam that careens into the life-on-the-road-of-misadventures of "Truckin'". A roar engulfs the hall as the crowd applauds mellowin' slow in their neighborhood and Jerry fires out a crippling solo before shifting into high gear with a smokin' "Nobody's Fault But Mine" jam. Billy then commanders the wheel, driving the group further out into their psychedelic masterpiece "The Other One". Garcia's fury of kaleidoscopic triplets accelerate the group into wide open terrain while shimmying into a Spanish Jam. Teetering on the edge, the band begins pumping the brakes on "The Other One" and the jam becomes more sparse as the notes start floating into Space. Lesh, not to be left out, drops in a series of punishing bass bombs while Weir's feedback tears through the astral plane. Garcia tries to tether the group back to Earth with a vague melody, but Billy isn't ready to descend yet and eases the band into a jazzy, ethereal Feelin' Groovy Jam. Finally the lucid dream begins to lift as "I Know Your Rider" peaks through and beautifully concludes nearly an hour of incendiary 1973 Dead. words / d norsen
Grateful Dead :: He's Gone > Truckin' > Jam > Drums > The Other One > Spanish Jam > I Know You Rider
Archives: Aquarium Drunkard — Dead Notes (Volumes 1 —10)
For heads, by heads. Aquarium Drunkard is powered by its patrons. Keep the servers humming and help us continue doing it by pledging your support via our Patreon page.