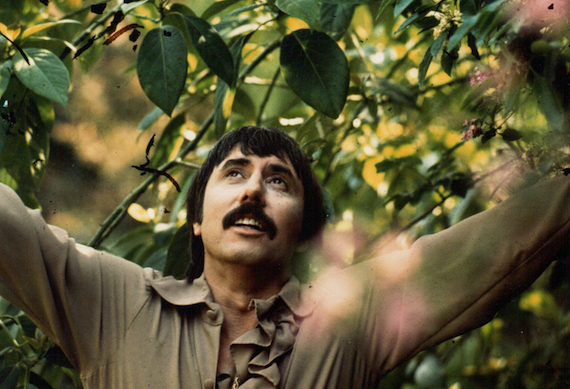 Author Wyndham Wallace charmingly suggests in the beginning pages of his new memoir about his time with Lee Hazlewood that he felt he was "not even shit" on the legendary producer, songwriter, and performer's shoes upon their initial meeting at the New York Grand Hyatt in 1999. Wallace's taste for self-deprecation runs through the entire book, but it's clear that Hazlewood held a much higher estimation than that of Wallace. Over the course of the last eight years of his life, Wallace would become Hazlewood's business associate, de facto manager, and collaborator. Most of all, Wallace – or "Bubba," as Lee dubbed him – became Hazlewood's friend.
Lee, Myself, & I documents their friendship. It's not a biography of Hazlewood's decades long career, during which he laid the groundwork for the Arizona recording scene, producing defining music by Duane Eddy and Sanford Clark, rocketed to stardom with Nancy Sinatra, wrote songs recorded by Dean Martin and Frank Sinatra, founded the artistically daring LHI Records label, and inspired a generation of artists including Sonic Youth, Calexico, Lambchop, Lydia Lunch, Nick Cave, Jarvis Cocker, Richard Hawley, Primal Scream, and more. Instead, Wallace's book focuses on his experiences with Lee. It's a touching, funny, and warm memoir, reflecting on Wallace's personal relationship with Hazlewood.
"Well, it hasn't helped the marketing campaign, it has to be said, but there you go," Wallace laughs via Skype from the countryside southwest of Berlin, his self-deprecating tone carried over from the book and encouraged by a few recent drinks. "It doesn't fit in the biography racks and it doesn't fit in the novel racks, because it's not fiction. But the nicest comment I've seen on Twitter actually was 'This is the best non-fiction music book I've read all year.' It's a small category there."
But the idea of writing a history of Hazlewood didn't interest Wallace. "The idea of writing a biography rarely crossed my mind, because it was so hard to get facts out of Lee," Wallace explains, but even deeper than that, he didn't want to undo the alluring spell cast by Hazlewood's songs, the "sexual mysticism and fatalistic humor" described by comedian and writer Stewart Lee in the book's introduction. "I haven't destroyed the mystique of Lee," Wallace says. "I've told stories of his life and I've revealed an intimate side of him, but I haven't provided hard cold facts from his birth to his death."
Wallace instead chooses to focus on his emotional connection to his songs. As a writer for BBC Music, The Guardian, Quietus, and other publications, Wallace is drawn to a personal writing style, forgoing the attempted objective detachment so prevalent in music writing.
"One of the things I find very frustrating about writing about music is that you are supposed to keep up this pretense of being somehow separate from it," Wallace says. Writing evocatively about his first experience with the music of Lee Hazlewood — stoned at a friends' place, naturally — Wallace taps into the spirit of music fandom, evoking the memories of falling in love, being wowed by the sounds floating from the stereo. Even as he meets his hero and begins to work with him, Wallace never loses touch with that initial sense of wonder. It carries through the book, a gentle undercurrent of disbelief, which of course, Wallace addresses by laughing at himself.
"I felt like I was going to be caught at any moment, that Lee would just let me go," Wallace says. "He might hand me $100 in a casino and say 'I'm going off to the bathroom' and he just never comes back."
Hazlewood never shook Wallace, and Wallace in turn helped nurture Lee's later career, helping oversee For Every Solution There Is A Problem, a tribute album, Total Lee: The Songs Of Lee Hazlewood, and his final full length, Cake Or Death. Along with key reissues by Steve Shelley of Sonic Youth on his Smells Like Records imprint, Wallace helped share the gospel of Lee – and he's continued to do so, working with Light in the Attic on its current reissue campaign. Then, near the end of his life, Wallace actually crafted a song for Hazlewood, "Hili (At The Top Of The World)," featuring Wallace's words recited by by Lee over the sounds of Icelandic band amiina. The song serves as a tender coda to their time together.
Wallace offers a look into Lee's life – memories from his storied past, his sour humor, his time with his third wife, Jeanne, and his family. You meet these people through Wallace's eyes, and you experience Lee's music through his ears. To this day, when he speaks of his friend and father figure, Wallace still sounds, more than anything, like a fan. And he's not afraid to indulge in an extended metaphor to explain his affection for the sounds of Lee.
"One of the weirdest things I do every year is I take two or three media to a small island on the edge of the Arctic Circle in Norway," Wallace says, of a remote excursion he organizes for writers. It's an involved trek, he explains, involving a flying into Oslo, then Bodî¸, then a "four or five hour boat ride" from there. "There's this magical thing where these people get on the boat ride and they start to get excited, after about the first thirty minutes, because the scenery you sail along the Norwegian coast is amazing. They all look at me and say, 'God I see why you wanted me to come here.' And I get to say to them, 'Naw, this is nothing.' Then we go another hour, another hour, another hour and a half and they see Norway's second biggest glacier, and they're like 'Holy shit, this incredible, Wyndham!" And I say, 'No, no, you still haven't seen anything.'"
Finally, on the island of Husî¸y, after they've experienced the midnight sun, had a few beers, and dined on whale carpaccio — after they've been forced to "reassess their entire thoughts about the food chain" — Wallace says they fully get it. "That's what to me the love of Lee Hazlewood is like. You get somebody's attention by playing them a Lee Hazlewood song sometime, and they'll say 'Fuck me…this is incredible.'" And then you take them deeper into his discography. "'Yeah yeah, but you haven't heard anything yet,' then you play them something else, and they go 'Whoa.' Then you play them something like 'Soul's Island' from a A House Safe For Tigers. That, for me, is the pleasure of introducing someone to Lee."
With Lee, Myself, and I, Wallace introduces a side of Lee Hazlewood found beyond the grooves of his records. A man every bit as quizzical and unique, but one made of flesh and blood, and then, through Wallace's elegiac words, you get to say goodbye to him. words / j woodbury