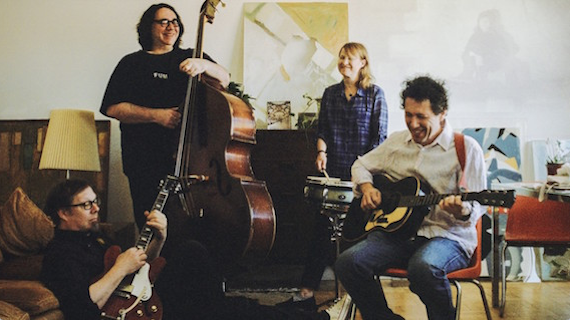 Yo La Tengo is unmistakable. Over the last 31 years, the Hoboken band has created a signature style, one that's comprised of identifiable building blocks: Georgia Hubley's hushed, husky voice and drumming, which balances a jazzy lilt and garage rock minimalism; James McNew's insistently driving and melodic bass; Ira Kaplan's cooing voice and rangy guitar work. Sometimes the songs are noisy and laden in feedback, sometimes they are feather light, but the trio always sounds like itself, even when performing selections from a seemingly bottomless repertoire of pop, soul, and rock & roll covers. Yo La Tengo always sounds like Yo La Tengo, but consistently finds new ways to manipulate foundational elements, to fold in new sweetness and magic.
Yo La Tengo :: The Ballad of Red Buckets
The band's latest, Stuff Like That There, was envisioned as a sequel to 1990's Fakebook, and like that 25 year old album, it features a selection of covers alongside re-imaginings of familiar songs and new material. Recorded by Gene Holder, the trio is joined by former guitarist Dave Schramm on the new album, who adds gorgeous, electric guitar to a sparse framework of acoustic guitar, brushed drums, and upright bass — an instrument McNew had never played before, but took on as a challenge and homage to Allen Greller, whose double bass work appeared on Fakebook.
"It just seemed like something we wouldn't do…that seemed really appealing. Like, why not?" McNew says of the idea of crafting a sequel to a former record. "It would be super weird and perverse in the way that we operate to do something like that." "Yeah, I think there's something crass about it," laughs Kaplan. "We kind of thought, 'Let's be those guys. Let's cash in.'"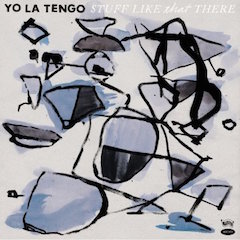 Stuff Like That There does not sound like a lark. Songs by Darlene McCrea, The Cure, Hank Williams, Antietam, Great Plains, the Loving Spoonful, pre-P-Funk band the Parliaments, the Cosmic Rays (a Sun Ra-produced doo wop combo), and Special Pillow are treated with the band's characteristic warmth and good humor. As a massive Spotify playlist of songs Yo La Tengo has covered suggests, McNew says that the band's sprawling taste and willingness to dive into covers "comes from who we are" as music fans.
"We just listen to music and think about music all the time, and not just our own," McNew says. "I think we've been that way our whole lives. I think a lot of times it boils down to 'I have this song stuck in my head, I love this song, what are the chords?' Sometimes we can hear a song and think that it would translate nicely into our universe. 'Friday I'm In Love' is a song both me and Ira thought, 'Man, I'd love to hear Georgia sing that song, why don't we do that one?' Of course Georgia was like 'That song has too many words in it, it's too hard to sing.' But we begged enough to convince her to do it."
"Once our brains have decided we're going to do it, things just start popping up, coming into mind, including a whole bunch of songs we had never played or thought of playing," Kaplan says. "All of the sudden we're either practicing or thinking about getting together and we'll think, 'It'd sound really great if Georgia sang "My Heart's Not In It"'…we just try out a bunch of [songs] and some stick, some don't."

Some songs on the album stretch back in the band's lifetime, like the band's version of "I'm So Lonesome I Could Cry," inspired by Al Green's R&B interpretation of the song on Call Me, which was a staple of the band's sets when opening for Johnny Cash in 1994, performed in a similar stripped down acoustic formation. McNew says the "Johnny Cash touring family" "really made us feel more welcome than that had to."
"I watched them from the wings all three nights, got to see them play up close, and watch how they'd look at each other for cues," McNew says. "They all had this magic touch as far as how they could play together. And watching Johnny Cash…being able to hear him talking to himself, muttering under his breath away from the microphone, was magical and terrifying…To see him breathing fire on stage, I don't think I'll ever see anything like it again."
The album dips into classic Yo La Tengo material, too, recasting Popular Songs' "All Your Secrets" as a folksy stroll, playing Electro-o-pura's Velvets-evoking "The Ballad of Red Buckets" as a droning Americana raga, and finds the band tearing down the rave up roots of "Deeper Into Movies" from I Can Hear The Heart Beating as One to reveal its tempered core. The new originals on the album are as engaging as the old classics: "Awhileaway" rides a jazzy shuffle, and "Rickety" finds Kaplan and Hubley's voices tangled in harmonies, over percussive bass by McNew and woozy lead lines by Schramm, with Kaplan gently singing, "Dreaming on the astral plane/where our worlds collide." Much of Stuff Like That There calls to mind the band's history and previous decades, but like the best Yo La Tengo records, it feels as present as it does reflective.
"We opened for the Sundays [in the early'90s] and at our New York show I apparently introduced too many songs by naming who had done them first or written them, and somebody heckled us by saying, 'Play something you wrote, play one of your songs,'" Kaplan says. "I just saw the documentary about Gore Vidal and William F. Buckley, Best of Enemies, which said that Vidal went into the first debate with ad libs scripted – so I did not have this scripted in advance — but I said, 'If we're doing it it's our song,' and shut him totally down. But I think that's something we have confidence in with anything we do: Once we do it, it will be us." words / j woodbury