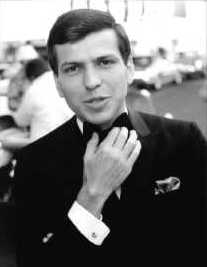 This is not his father's song.
Thanks to its appearance as the theme song of director Rick Alverson's latest film, Entertainment, it may be time for a complete reappraisal of Frank Sinatra Jr., based on one song alone.
"Black Night" comes courtesy of the film's star, Gregg Turkington (who plays a thinly veiled version of his Neil Hamburger character in Entertainment), the world's foremost Frank Jr. expert, and his biggest fan. Taken from his 1971 album Spice, the song was written by Sinatra Jr. himself and arranged by Nelson Riddle, and is a sublime and twisting four-and-a-half minutes of insecurity, bombast, and menace.
Turkington says it best: "'Black Night' is a haunting, evocative song that encapsulates a lifetime of disappointment and yearning. Riddle's arrangement for this song, described as 'evil' by Frank Jr. in his liner notes, starts with one simple guitar and builds slowly until it coalesces into an absolutely heart-rending orchestral blast. Pure dynamite." words / k evans