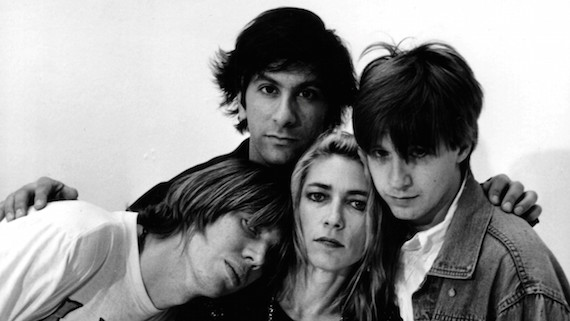 Pavement played one hell of a show at London's Brixton Academy on December 14, 1992. We know this because the BBC taped and broadcast the set — a set that was subsequently included on the classic Stray Slack bootleg, officially released as part of the 10th anniversary Slanted and Enchanted reissue, and finally put to wax last month on the Secret History comp.
Of course, Pavement was just one part of the bill on that December night. Malkmus & co. were opening for Sonic Youth, then touring in support of their second major label effort, Dirty. Fortunately, the BBC's tapes were still rolling, preserving (most of) SY's glorious, explosive set for us to check out all these years later. They lean heavily on Dirty numbers here (even including the choice Lee Ranaldo b-side "Genetic"), but there are welcome trips into the back catalogue, including a ferocious "Kool Thing" and "Tom Violence," appropriately dedicated to Richard Hell. This is Sonic Youth at their tightest (and most tightly wound), with Thurston Moore and Ranaldo's guitars crunching and squalling around Kim Gordon's inimitable snarl.
MVP of the evening, however, has to go to drummer Steve Shelley, who here comes across as the Alternative Nation's very own Keith Moon, propelling his band to one beautiful plateau after another. Dig the stormy crescendos he summons on "Theresa's Sound World" and bow down. words / t wilcox

Download: Sonic Youth :: Brixton Academy, London, December 14, 1992 (external link)
1. 100%
2. Dirty Boots
3. Kool Thing
4. Swimsuit Issue
5. Genetic
6. Theresa's Sound-World
7. Tom Violence
8. Sugar Kane
9. Schizophrenia
10. Drunken Butterfly
11. Youth Against Fascism
12. JC (Radio session bonus track)
Only the good shit. Aquarium Drunkard is powered by our patrons. Keep the servers humming and help us continue doing it by pledging your support via our Patreon page.