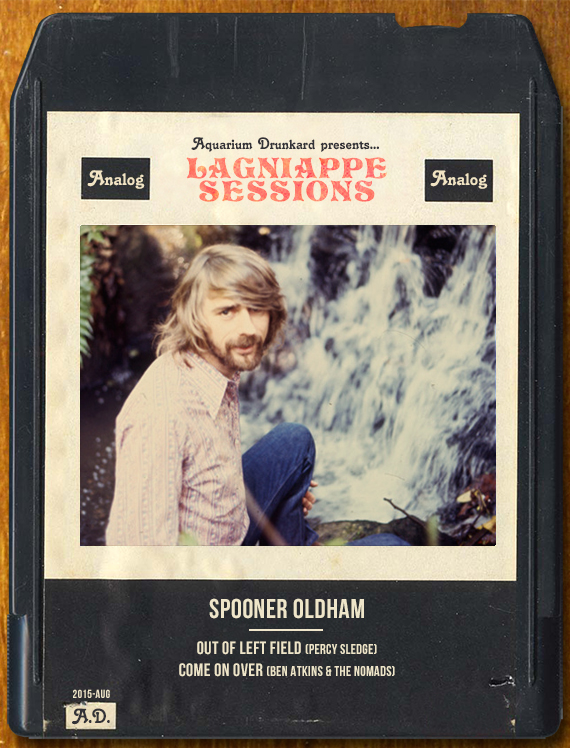 Lagniappe (la ·gniappe) noun 'lan-ˌyap,' — 1. An extra or unexpected gift or benefit. 2. Something given or obtained as a gratuity or bonus.
Zelig-like co-founder of the Muscle Shoals Rhythm Section, Spooner Oldham cut his professional teeth in Alabama at FAME Studios. After sitting in with the likes of Aretha Franklin, Percy Sledge and Wilson Pickett, Oldham then headed west to Los Angeles to further his reputation as a session man backing Dylan, Neil Young, J.J. Cale, Townes Van Zandt, Ry Cooder, Gram Parsons and beyond. As artists go, the man defines the word bonafides.
This week, Light In The Attic Records is reissuing Oldham's lone solo album, 1972's Pot Luck. A sleeper upon its original release, the reissue marks not only the return of the lp to vinyl, but its first ever appearance on CD/digital. While in Los Angeles in July, Oldham cut the following AD session at Red Rockets Glare studios paying tribute to some of his favorite sides. Oldham, in his own words, below…
__________________________________________________________________________________
"Out of Left Field" – I was thinking of Percy sledge, who did such a wonderful rendition of the song. I always liked the Shirelles version of "Dedicated", and I wanted to do a male version, as the words are not gender specific. "Come On Over" — by Ben Atkins & The Nomads — is an uptempo song, I thought would be fun to play along with Hutch Hutchinson and Phil Jones. It was.
Spooner Oldham :: Out of Left Field (Percy Sledge)
Spooner Oldham :: Dedicated To The One I Love (The Shirelles)
Spooner Oldham :: Come On Over (Ben Atkins & The Nomads)
Spooner Oldham; Keys, Vocals. Hutch Hutcherson; Bass and guitar, backing vocals. Phil Jones; Drums and percussion. Produced by Raymond Richards and Roxanne Oldham. Engineered by Mike Post.
Lagniappe Sessions Archives / imagery via d norsen.