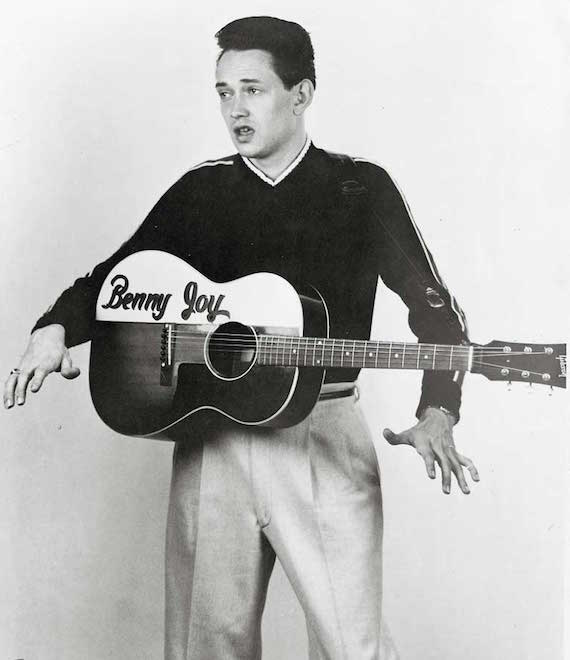 Rarely does Tampa appear in the annals of early rock history. It was there bluesman Hudson Whittaker, aka Tampa Red, worked up his slide chops before making his career in Chicago, and Ray Charles lived in town for a while, playing with Charlie Brantley's Honey Dippers and cutting some of his own early sides. But Benny Joy was the Bay Area's first homegrown rocker. Throughout the late '50s, young Joy was the prince of the dancehall circuit in central Florida. He had a raw sound that combined country & western with rhythm & blues — one that he claimed to have developed before ever hearing Elvis. Plus, he wrote most of his own material: hormonal boppers with titles like "Spin the Bottle" and "Crash the Party." Accompanied by Big John Taylor's raunchy electric guitar, Joy's peninsular gestation begat an uninhibited, youthful style that led to an audition with Sam Phillips and Jack Clement at Sun Records.
Joy ended up sticking close to home, and though he never had a bona fide hit record, when he traveled to Philadelphia to perform "Little Red Book" on American Bandstand, the Mayor of Tampa himself saw Benny off, and Miss Greater Tampa Bay turned up to plant a good luck kiss on his cheek. The guy was popular. Nevertheless, his singles sputtered and died on local labels like Tri-Dec and Antler. By the early 60s, the rockabilly craze was fading, and so was Joy's patience with his manager Buck Ram and sideman Taylor. Plenty of records–including more C&W inflected material recorded with the Nashville A-Team–didn't see the light of day for decades. In the 70s & 80s, rockabilly fetishists in Europe sparked a renewed interest in the obscure rocker. In 1990, Rock-revivalist wild-man Dex Romweber idolized Joy and covered "Wild Wild Lover" on Letterman with his band the Flat Duo Jets.
Both Ace and Norton Records have since thoroughly anthologized Benny Joy's catalogue. While his uptempo, juvie, sock hop material is a lot of fun, the deep cuts reveal a dark, brooding undertone to Joy's songwriting. Take "Nowhere," a lament about "sad, sad, place" sung over queasy, seventh chords and exotic, noirish guitar runs. "I'll Never Have The One I Love" sounds like a bootleg cut by one of Charlie Feathers' country cousins, and showcases the soulful instrument that is Joy's voice.
Benny Joy :: I'll Never Have The One I Love
In 1962, Benny Joy relocated to Nashville to be a songwriter. He scored a few hits, although his tunes that got cut seem to tell the story of Joy's dark side: Carl Smith recorded "Take My Ring Off Your Finger," Stonewall Jackson did "I've Got To Change," Charlie Rich sang "She Loved Everybody But Me," and both Little Jimmie Dickens and Lefty Frizzell sang "Running Into Memories of You," a co-write with Mel Tillis. Even the great soul singer Jackie Wilson cut a Joy-penned tune called "Teardrop Avenue," and rumor has it King Presley himself was considering "Sincerely, Your Friend" for his next album when he died. words / a spoto