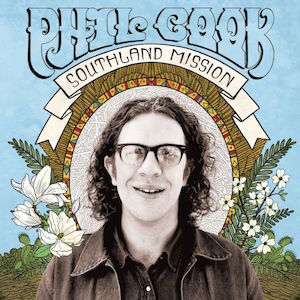 The last time we heard from Phil Cook, he was serving up an EP entitled This Side Up, a collection of four instrumentals gracefully mingling country funk boogie with warm folk rambles and delicate, spacious meditations. Since then he has lent his talents – keys, bango, guitar, slide and vocals – to Hiss Golden Messenger's Lateness of Dancers, Alice Gerrard's Follow the Music and Matthew E. White's Fresh Blood; three of the finest records of the past two years. We've also seen him on stage with HGM bandmate Amelia Meath (Mountain Man / Slyvan Esso) and his brother / Megafaun bandmate Brad Cook, conjuring the best of country soul vibes in mellow, hometown settings.
In all of Cook's work thus far, there has been an inherent warmth and love, a paean in sound to family, home, friendship and the organic blending of American roots music — country, soul, blues, gospel and folk. Watch him on stage and the joy he takes in his playing and musical fellowship is unmistakable — he beams with light, he is full of joy.
On Cook's latest, the long player Southland Mission, he has found the words to go along with these sights and sounds, and in doing so has made the record of his career. Taking inspiration from his previous work in Megafaun and Hiss Golden Messenger, as well as influences such as the Band, J.J. Cale, Grateful Dead, Ry Cooder and Dylan circa 69-70, Cook puts all those energies, inspirations and genres into a homegrown stew, a record that swings and sways with passion, spirituality and love. It sounds full, vibrant, and bursting with life.

On opener "Ain't It Sweet," an electric guitar shreds along with barroom piano and fiddle, while Cook and his friends harmonize that they'll "find a way to carry on." It's as feel-good a song as we're likely to hear for the rest of the year. "1922" is a populist folk stomp, and "Great Tide" is a spiritual anthem of searching and surviving. Perhaps his finest piece to date, Cook seamlessly blends country funk swamp  boogie with luminous Appalachian gospel. He sings "Nothing's sacred / nothing's safe/ get your ass on the morning train / and get the hell out the way." Shit gets bad and sometimes never settled, he tells us, but protect your soul and you'll rise above the tide. It's as earnest as it gets, but damn if Cook and his band don't get down while they preach.
"Belong" is a sweet fiddle and banjo duet, a poem from Cook to the love of his life, while "Sitting on a Fence" mines J.J. Cale — a swampy gospel groove brimming with attitude. Cook then takes us to church on "Lowly Road", a Staple Singers-inspired cut with gospel backup singers (a large presence on the record as a whole), handclaps and tambourines shaking. "Time To Wake" coos and whistles in a dreamscape of domesticity, leading right into another show-stopping highlight, "Anybody Else." Here, Cook addresses marriage, struggle and endurance through the power of togetherness. The light organ and driving, shuffling rhythm helps Cook, help us, as it scores the work and devotion that gets us through.
In an essay about the record penned by Cook's wife, Heather, she writes "Southland Mission  is a soundtrack of shared experiences, and Phil's purity in leadership is self-evident from the moment the needle hits the record. The songs have no prerequisite, no pretension. Instead, as a collection, they call on listeners to witness and immerse themselves in their own journey…Each track is a palpable glance back at the heritage of our shared musical culture, subtly encouraging what will be a vital shift in keeping true artistry alive. Things tend to come into focus after a long journey, and this record is no exception."
Reading this, listening to the record, thinking of the pains, pleasures and experiences that went into it, one can feel the palpable connection between Cook, his family, his roots and his music and, in turn, we can't help but feel connected ourselves. The work that goes into true artistry is akin to the work that goes into living a full life. This record is for all of us. Thank you, Phil. words / c depasquale