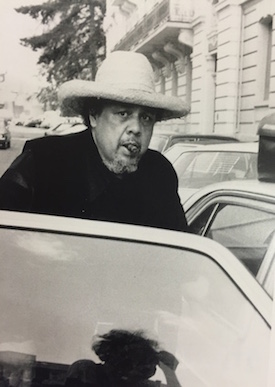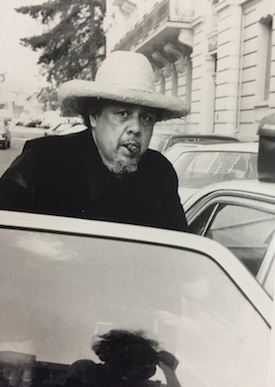 The album opens with Charles Mingus sputtering a percussive motif with one hand while the other riffs out an arabesque fantasia. There's a duality present here, a tension of opposites. A fixed pitch struggles with an ecstatic melody and the battleground is rhythm. This gives way to rich, rolling chords, which develop into a strange waltz that hums along in Mingus' "leaky faucet" time. The piece unfolds like a dreamlike tremor, a sort of musical fingerprint of the artist's unconscious, and is aptly titled "Myself When I Am Real." In the liner notes, Mingus tells Nat Hentoff, perhaps the only jazz critic he could ever stand, "I go into a kind of trance when I'm playing this kind of number. I remember that when we were recording this one, I noticed suddenly I didn't seem to be breathing."
Charles Mingus :: Myself When I Am Real
Aside from its breath-taking beauty, Mingus Plays Piano is a remarkable document in that it is Charles Mingus' only solo record and he doesn't even play the bass. He tables his virtuoso upright skills entirely for the instrument on which he composed. The album is an intimate portrait that reveals Mingus' process and practice–not only his command of musical ideas but also his deep fluency and broad imagination. The material is rich and style expansive, however there's playfulness to this LP, an understated, casual mood, like he's jamming in your kitchen. Recorded in a single session on July 30, 1963, it's an odd and often overlooked piece in the Mingus catalogue that contrasts and compliments his intricately orchestrated and technically challenging works of that time. Long out of print, SF archival label Superior Viaduct remastered and reissued this subtle masterpiece earlier this year.
Mingus Plays Piano originally was released on the heels of The Black Saint And The Sinner Lady, a brilliantly orchestrated, album length composition performed by an eleven piece band of frequent Mingus collaborators. The Black Saint was a career highlight, but the year leading up to that success was a tumultuous one. In 1962, Mingus toured heavily, and for his band's residencies in NYC, he experimented with hiring a bassist and playing piano himself. He agreed to record a live album with a big band iteration of his Jazz Workshop for United Artists. Rushed preparations for this maximalist composition resulted in an incident where he punched his longtime trombonist Jimmy Knepper in the mouth. The 31-piece band's one night stand at Town Hall was sloppy, and Mingus raged as concertgoers walked out and demanded a refund. After that disastrous performance, Mingus was exhausted, had gained a lot of weight, and suffered from painful ulcers. His wife Judy had just delivered a stillborn baby girl. The couple retreated to the Bay Area where Farwell Taylor, Mingus' old beatnik-guru friend, straightened him out with a weeklong juice cleanse.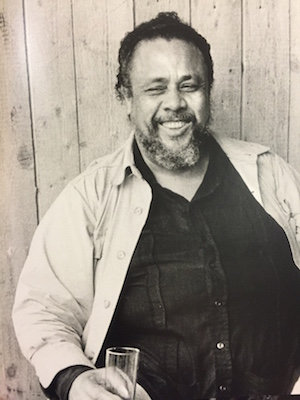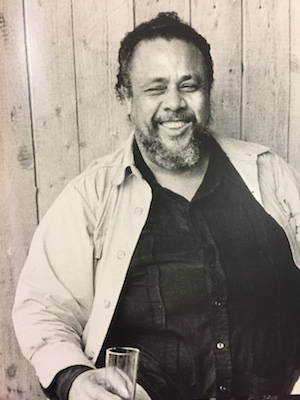 By most accounts, Charles Mingus never dropped acid. But in 1962, he spent time hanging out with Timothy Leary at Millbrook, where the Harvard researcher had made a laboratory of magnate Charles Dieterich's rococo mansion. Mingus' pal and heir to the Mellon fortune, Peggy Hitchcock, brought him upstate to escape the bustle of Manhattan and check out Leary's newfound spiritual drug. Instead, Mingus would stay up late carousing, ranting at tripping jet-setters, and playing the house piano. He certainly indulged in bouts of excess with all sorts of substances–late night Chinese food among them–but acid scared him. Music was religion for Mingus, and in that church he was very spiritual and devoted. His immense lust for music encompassed some impossible eccentricities and violent tempers, but all in service to a method, a history. Leary felt that the endless expanse of the unlocked mind had something in common with the generative potential of improvisation. He'd tell Mingus to "just play" the piano, to which Mingus called bullshit: "You can't improvise on nothin', man. You've got to improvise on somethin'."
Although Mingus Plays Piano is mostly original material, he includes riffs on a few standards like "I Can't Get Started" and "Body and Soul." He first worked out "Myself When I Am Real" in his wife Judy's living room, and at the beginning of "Memories of You" Mingus kids around: "I don't think I should improvise man. It's not like sittin' at home, I can tell you that. It's not like playing at home by yourself." Far from raw or unprepared, the album bears a significant subtitle: "spontaneous compositions and improvisations." Mingus had strong opinions about the relationship between composition and improvisation. His first love was classical music–in particular the work of Strauss, Debussy, and Stravinsky, harmonically inventive composers who ushered in the modern period of orchestral music.
As a person of color, the classical world wasn't open to Mingus, but he had the visionary creativity to elide the rich textures of classical music with all sorts of jazz. His only Grammy nomination was for the liner notes he wrote to Let My Children Hear Music, released in 1971. Entitled "What Is A Jazz Composer," his essay explains the creative primacy of improv: "each jazz musician… each soloist, that is, when he begins to ad lib on a given composition with a title and improvise a new creative melody, this man is taking the place of a composer." To circle back to his words to Timothy Leary, he laments rootlessness in the name of jazz: "Today, things are at the other extreme. Everything is supposed to be invented, the guys never repeat anything at all and probably couldn't." He goes on to say "I admire anyone who can come up with something original. But not originality alone, because there can be originality in stupidity, with no musical description of any emotion or any beauty the man has seen, or any kind of life he has lived."
Life is on display in Mingus Plays Piano, and origin point of original, musical description. Here, "Orange Was The Color Of Her Dress; Then Silk Blues" is a skeletal, sketchbook rendition of a tune that will become a fixture of his band's live set. Listen as he tenderly sings along to himself, alone at the piano. words / a spoto  
Charles Mingus :: Orange Was The Color Of Her Dress; Then Silk Blues