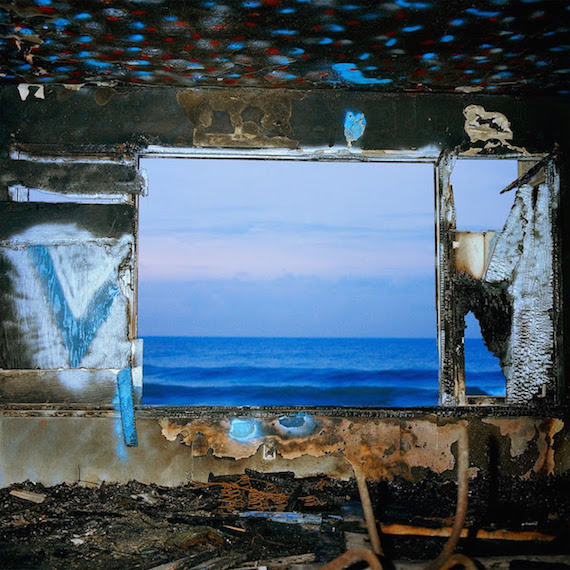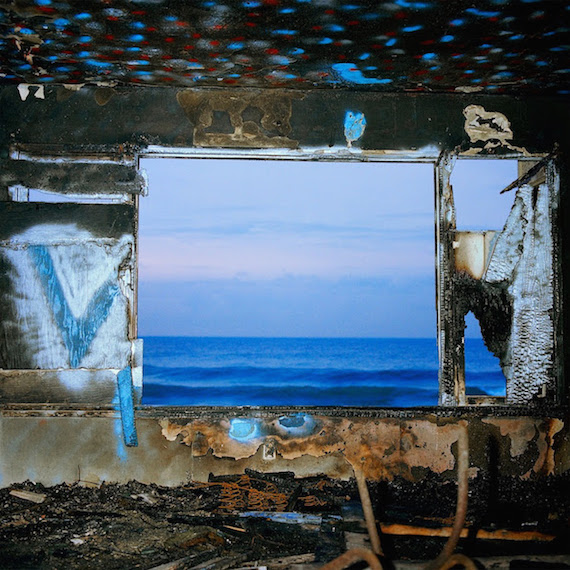 Leading up to the release of Deerhunter's seventh long player, Fading Frontier, Bradford Cox revealed a "concept map," drawing together some influences on the group's latest work. Amongst the musical clues are influences as disparate as Laurie Spiegel, Pharoah Sanders, Caetano Veloso, REM, Al Green and Tom Petty. He also lists the Weeping Blue Atlas Cedar plant (a gothic and evocative creature), the Bergamot essential oil (noted for its uplifting and relaxing effects), Chrome Yellow (with its color akin to the sun), and volatile organic compounds (more specifically that found within that universally recognized new car smell). He twice links, under different codenames, a link to eight hours of peaceful synth pads and rainforest ambience.
And he lists the devastating and impactful accident late last year – in which he was hit by a car – an event that looms largely over this new work. He lists his rescue dog Faulkner, a new friend and companion who seems to bring Cox both cheer and hope, a theme that also illuminates the record. And he lists Chilean poet Vicente Huidobro, an artist whose prose, vision and literary notion of Creationism (an idea that a poem be created for the sake of itself — that is, not to praise another thing, not to please the reader, not even to be understood by its own author) seem to influence Cox profoundly.

In Huidobro's "Eclogue", he writes:
"Sun about to die
The car broken down
And a smell of spring
Remains as the air sweeps by
Somewhere
a song
WHERE ARE YOU
One afternoon much like this
I looked for you in vain
In the fog covering the roads
I kept finding myself
And in the smoke of my cigar
A lost bird
Nobody answered…"
Almost reads like a Deerhunter lyric. This evocative steam of consciousness, this kind of cautious optimism pervades Fading Frontier. A recent interview with Pitchfork's T. Cole Rachel describes a "newfound serenity" in Cox, with the band's frontman describing the new record as feeling "like the first day of spring, where you go out and everybody's happy and sitting on their stoops and walking their dogs and waving to each other. It happens once a year, after a brutal winter. It's the day when you realize it's not gonna be freezing forever, you're not gonna be miserable forever. It's a very special feeling." Cox seems to have discovered a new lease on life after his brush with death, an appreciation for and a positive outlook on life in and of itself. "You should take your handicaps/ channel them and beat them back / 'till they become your strengths," he sings on album opener "All The Same." On "Living My Life," the band sounds absolutely serene, grooving a beach-pop wave in the most Deerhunter-y way possible. Cox hasn't found all the answers, though. He is still searching, perhaps for a way to get back all the time being angry, being bitter. "Will you tell me when you find out / to recover the lost years," he asks.
Sonically, the band sounds the most tranquil and spacious yet. "Breaker" grooves and glides with ease. "Im alive / I don't credit the source / I just drive," Cox sings. An Elysian synth line tags along with him for the ride. "Take Care" is a dreaming lullaby, with Broadcast's James Cargill offering synthesizers and tape loops. It's another affirmation of life, as Cox sings, "Take care / lift the guard /and you might find your place / in that life / place where you found hope." He then goes on to sing "Take care / lift the guard / you wont be lonely / too much longer / raise your crippled hand / into the clouds / and wave bye bye now…" Perhaps it's a prayer, a sendoff to their late friend Trish Keenan. Perhaps it's an understanding and a coming to peace with her departure. With anyone's.
These meditations resonate strongly throughout the record, and it's clear that while Cox sees things more clearly, there is still a mist. Cars, winding roads, fog, unanswered questions, just like in Huidobro's "Eclogue", appear all over this record. Perhaps it's Cox revisiting the accident. Haunting him. The second half of the album takes on a strikingly different tone, both sonically and lyrically, than the first. "Leather and Wood" is led through by a lonesome, mournful piano, with warped and distorted sound effects and guitar. Classic Deerhunter, if you will. Cox ruminates on "that elusive peace"…he believes he can focus, we can fly, we can die and we can live again. Maybe this portion of the record is Cox rehabilitating, but it also partly feels like the alternate universe: the not surviving the accident, the ghost hanging around, revisiting the scene and reflecting. "I drove my car over the edge," he sings, "the leather and the wood formed a ledge / I believe we can fly / I believe anything is real / I believe we can die / I believe we can live again…"
The slither that is "Snakeskin" makes for one of the most strikingly unsettling songs Deerhunter has laid to tape. It's also one of their most populist. Like an inverted "Golden Years" cross-pollinated with Flannery O'Conner, it rides a menacing, humid funk groove. "I was born with the ability to talk / I was born with a snakelike walk". "I was natural", Cox sings, "I was geographic black." He seems to revisit the hospital or maybe the physical rehabilitation center he was stuck in for who knows how long, "lost in that home." Zumi Rosow lends a treated alto saxophone and, for a moment, it sounds like a car honking its horn in grave earnest. "Look out," it seems to warn. It's Deerhunter at their most vivid — captivating, mystifying, gothic, and brilliant.
The Lockett Pundt-penned "Ad Astra" finds the band on a celestial plane, the Pharaoh Sanders and Laurie Spiegel influences materializing in a profound and beautiful realization. Synthesizer and distant warped horns transcend into one with Pundt's gentle croon, with the blurred and warbled sound bites floating underneath him, only to evaporate and leave, in its ancient mist, Bascom Lamar Lunsford's 1928 folk tune "I Wish I Was a Mole in the Ground"
Ever the dropper of clues, Deerhunter revisit this reference in the album closer "Carrion." A play on words referring to both the act of "carrying on" — in the positive, the moving forward — and the literal definition of "carrion," the decaying flesh of dead animals. Carrying on as in moving on, passing on? It's certainly more than Cox just taking a piss. The song feels genuinely triumphant, a folk song with guitar and harmonica and Cox declaring "To carry on / I will stay strong / I set you free / Now run along." Then it becomes midnight, the reverberating guitar chord noting the hour Badalamenti style, and Cox becomes a mole, digging his hole in the ground. "What's wrong with me," he asks and leaves us, once again with more questions than answers. The air sweeping by, keeping us searching. The fog covering the winding road, keeping us digging. It's much too deep, indeed. words / c depasquale