Will Toledo, the 23-year-old songwriter behind Car Seat Headrest, is not sweating the release of Teens of Style, his Matador Records debut.
He's excited, sure, but these songs – culled from his massive discography on Bandcamp, where he's uploaded songs since 2010 – are well broken-in for Toledo. The album will introduce his fuzzed pop to a wide audience, but he's already started thinking about the next record as his proper "debut."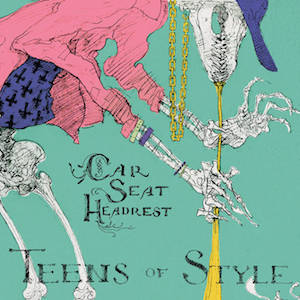 "It's intended to be sort of a compilation," Toledo says from Seattle, belying the cohesive sound of the new record, for which he re-recorded older compositions with his band. "If definitely takes the edge off the debut when it's not anywhere near the actual debut," Toledo says. Fittingly, Teens of Style reads like a greatest hits record. Songs like "Sunburned Shirts," "The Drum," and "Los Borrachos" bristle with energy, like prime Pavement or Guided By Voices, with traces of the Beach Boys' sunny pop and Animal Collective's endlessly looped melodies. Toledo's songs are often compared to those of the Strokes, and while they share spiky elements with that band, Toledo's freewheeling narratives are more akin to those of Courtney Barnett – hilarious, sharp, and whip smart.
Car Seat Headrest :: Something Soon
Toledo began fooling around with GarageBand in high school, inspired by records by Deerhunter, Panda Bear, and Leonard Cohen. The band's name serves as an origin story: Too embarrassed to record vocals at home, he'd take his laptop to parking lots and record in his parent's car. These nascent recordings are still available at BandCamp. Rather than scrap them, he figures they might as well be there for anyone who wants them.
"I remember spending a lot of time with the Nirvana boxset," Toledo says, of the rarities and B-sides collection. "For me, there's no reason to hide that away until you've got a legacy. You might as well leave the story open to whoever wants to check it out."

Over the years, his albums evolved to include long, sprawling compositions like the 11-minute "Hey, Space Cadet! (Beast Monster Thing In Space)" from 2014's How To Leave Town and the 12-minute-plus "Beach Life-In-Death" from 2011's Twin Fantasy (an album Toledo describes as a "fan favorite"). While Teens of Style features medium-length songs by CSH standards, they are densely stuffed by their own right. He layers lyrics and themes, cross-referencing himself and offering parenthetical asides, building up complex dialogs in his songs. "I want to romanticize my headfuck," he sings knowingly on "Something Soon." "I was referring to my present in past tense," he sings on "Something Soon."
"I like to reflect the process of time in my work," Toledo says. "This album is particularly heavy on that, because it's taking place over five years. As that goes on, I build layers of lyrics…the layers stand and interact with each other."
For all the big themes Toledo tackles – sex, history, economics, and identity – he never sinks into the gallows without a grin, allowing the listener room to laugh. "A lot of my music gets pegged as depressing or introverted," he laughs. "Early on, it definitely was, and I'm sure it still is to a point, but I think somewhere along the line I started adding humor in to balance that out, to give a more rounded emotional spectrum to the album."
Wry songs like "Times To Die," a postmodern retelling of the story of Job, act as lo-fi tragic comedies. That feel appeals to Toledo. "The dramady is the genre of the new century," he says. "It's no longer purely about making something poppy and bright or making something brutal and depressing." With Teens of Style he proves himself a deft storyteller – the laughs come with winces and the punchlines always sting a little. "When I dress black, it snows white," he sings on the beautiful, horn-laden "Maude Gone." It's a fitting introduction. words / j woodbury