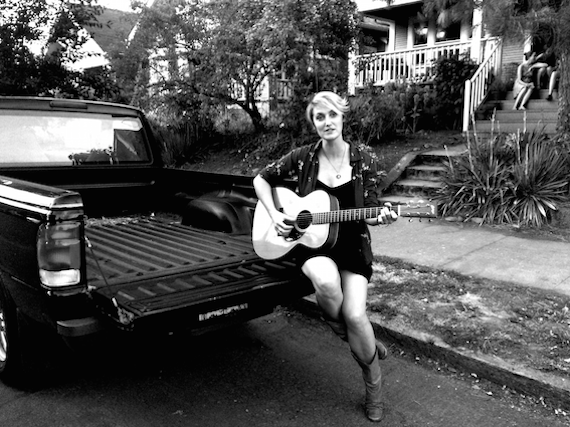 Here in the west, it's finally starting to feel like autumn. As the sunset comes earlier each evening, it's been hard to get Joan Shelley's beautiful Over and Even off the turntable. Deep hued and haunted, it's built on simple blocks that add up impeccably: Shelley sings and plays guitar with accompaniment by guitarist/Alan Lomax Archive curator Nathan Salsburg (who recently released a phenomenal duo recording with James Elkington). Recorded live in Kentucky by engineer Daniel Martin Moore, there are lilting touches — Will Oldham adds his voice, Rachel Grimes adds piano — but nothing ever gets in the way of Shelley's clear, impossibly warm voice.
Shelley spoke with Aquarium Drunkard on the phone to discuss roots music, songwriting challenges, and note taking.
Aquarium Drunkard: You wrote much of Over And Even in Greece? Did you draw specific inspiration from your surroundings?
Joan Shelley: I wrote almost all the songs while kind of stranded for a month in Greece. It was ahead of a tour in Ireland and the U.K. The most influential part [while writing] was that I was going to try this theory of writing one song every day — which I had previously been super suspicious of. I knew that if you wrote a song every day, they can't all be good, or maybe I'd run out — that was a fear. So, I was just going to practice writing one a day that month there, which actually seemed to work. As far as the influences of the surroundings…because mostly everyone spoke English as a second language there, I wanted to communicate. I feel like that's what influenced the songs the most: just wanting to feel human relationships I wasn't having.
AD: You recorded this mostly live in Kentucky. What's the story there?
Joan Shelley:  It was this very nice, spacious house in Kentucky. It was a '70s, kind of freaky experimental architect's house that my friend was renting. It's in the woods near where I grew up just outside of Louisville. Daniel Martin Moore set up his mics and a few things and Nathan and I just went and banged it out.
AD: I feel like sometimes people call your songs "sad," and I certainly can hear that in them, but not only sadness. I hear beauty, resignation, contentment, and melancholy. Do you ever feel sad playing them?
Joan Shelley:  I don't feel sad, no. There is a great lecture of Garcia Lorca called "On Lullabies." There are lullabies in Spain he was noticing that were really dark and morbid: a mother telling a child, "You're going to get lost in this scary world and a monster is going to eat you"; or, "You'll fall from the tree and break the cradle." He got to the point of saying that music is this soft bed we make to explore some of our darkest fears, because that's where you make a safe space. I think that resonated with me in that what I'm trying to do is make that soft bed. I'm not trying to make anybody sad, but there are things we're all thinking about anyway, so what not show them the light?
AD: In the title song you sing, "The scent of the wood and coffee/our cup is filling" – it's so simple, but so illustrative and conveys so much. Do you often find yourself writing during specific moments, or are do you draw on memories after the fact?
Joan Shelley: I try to take notice of moments. You can be in your head and something beautiful catches your attention. I started taking notes about certain scenes that stuck out to me. I was reading writers and noticing the way they take things we've all seen and make them vivid. I want to bring those things to the attention of the listener.
AD: Your folk group Maiden Radio focuses on traditional American music. How did you get together?
Joan Shelley: I first met Cheyenne Mize and she knew this other girl, Julia Purcell. They were both musical therapists, and I had met Cheyenne at this party we had at the Red River Gorge in Kentucky. They hiked in an upright bass, and she and I started singing together, and we realized our voices sounded really good together. She knew Julia had this beautiful crystalline, high voice. I was learning banjo at the time, so I wanted to learn all the crazy old time banjo tunings, modal songs, and the band became that outlet.
AD: Did you have much of a background in traditional American music?
Joan Shelley:  I came late to it. I was a singer growing up, but I didn't think I had the ability to learn instruments really. I came back to Louisville after I did all the things I was supposed to do, like go to school forever. I started going to bars where they'd have old time jams and just sit around learning tunes together.
AD: As you started exploring traditional American music, it led you into deeper study? I know you did some archival work.
Joan Shelley: I started transferring 78s. [Collaborator and curator] Nathan Salsburg found the collection of Don Wahle of Louisville, Kentucky, a collector who'd passed away, and he ended up having some rare, obscure records. Hillbilly stuff. We had to clean off the mold and vacuum them — I got an education through sitting for hours, listening to these old records by the Blue Sky Boys, the Skillet Lickers, these great string bands, making sure the record didn't skip.
AD: Listening to them like that must have had an impact.
Joan Shelley: It's hard to say how influences get around, but I think I'm spongy. I definitely take in stuff. words / j woodbury   photo / vikesh kapoor