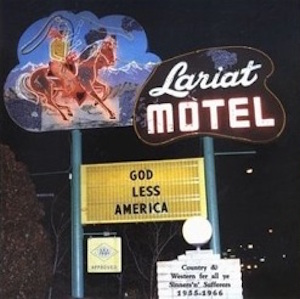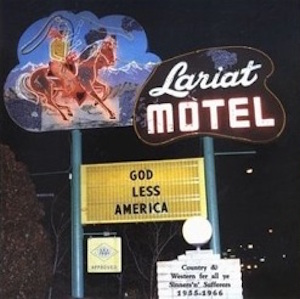 It's late October, and we're breathing chill, autumnal air, damp with death and lit by the blood moon. During these darkest of nights we while away our witching hours and pay homage to our devils. We reflect on fear itself, and what we realize to be the most frightening is not the bogeys, demons, and monsters outside–it's the monsters on the inside. In other words, the ideal subject material for real country music.
Many moons ago, we parted the dark skies of time to feature a now infamous compilation of honky-tonk Apocrypha by Crypt Records called God Less America: Country & Western fer all ye Sinners' n' Sufferers 1955-1966. The guys who wrote these tunes busted out of Porter Wagoner's "Rubber Room" and lit off to wide open nowheres where you can't see the stars at night because the neon's too bright. Harry Johnston, Eddie Noack, and Arkey Blue are the best of this Godless bunch, and it pays to follow their tracks out past the edge of town.
"It's Nothing To Me" is this comp's most arresting track. A propulsive beat, screaming fuzz, and booming baritone guitar provides the powderkeg score for some fatal barroom tension: "Oh well that's life, or it was… It's nothing to Me." Harry Johnston is a name that is enshrouded in mystery, but the production on this song may sound familiar. That's because the man behind the boards was Lee Hazlewood, and Johnston is a nom de plume for Sanford Clark. Hazlewood was still a DJ in Phoenix, Arizona when he met Clark through their mutual friend, guitarist, and future member of the Wrecking Crew, Al Casey. In 1956, Sanford Clark scored a breakout hit with one of Lee Hazlewood's early songs, "The Fool." He toured with Ray Price and Ray Orbison, but his sound fell into the genre-netherworld between country and pop rock and his career stalled. By the late '60s, Hazlewood was an established producer with a distinctive sound, and he signed Clark to his LHI label as a country act. These sessions yielded "It's Nothing To Me," which sounds like its psychedelic edge stems from choking down some strange desert plant rather than acid.
Sanford Clark :: It's Nothing To Me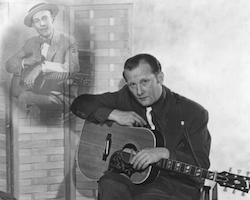 Lee Hazlewood's history with this song runs deep, and several of the artists he produced recorded it. First came Loy Clingman in 1957, then Buddy Long in 1959, then Sanford Clark in 1967, and finally Lee himself sang it on his final album, Cake or Death, in 2007. The songwriter is listed as "Pat Patterson," which is an alias for Leon Payne, the blind singer-songwriter from San Antonio, Texas who wrote some of the great songs in country music like "Lost Highway" and "I Love You Because." Leon Payne shares some history with another from the Godless gang, Eddie Noack. A great if overlooked songwriter himself, Noack also came from Texas, and in the 50's, he recorded for the great Texas labels Starday and Pappy Daily's D Records. Hank Snow and Johnny Cash recorded his music ("These Hands"), as did George Jones ("Barbara Joy"). Since he quit performing in 1959 and recorded for some 17 different labels throughout his career, Noack is hard to put a finger on. God Less America features "Dolores," a cut from Noack's late 60's stint at K-Ark Records. Based in Nashville, K-Ark was primarily a vanity press, and Noack's output here reflects a macabre sensibility. He was a heavy drinker, and by this time his career was in a slump, so it's going without saying the strange, fear-mongering songs like "Dolores" and "Barbara Joy" didn't light up the charts. However, it's one of these K-Ark singles that later became Noack's most famous song, and it was penned by none other than Leon Payne.
Eddie Noack's "Psycho" is one of the strangest specimens of country music ever recorded. It's a grisly ballad from the perspective of a serial killer with schizoid shifts in rhythm that vacillate between a warped funerary dirge and an upbeat, hillbilly take of rocksteady. Noack's stone cold vocals suggest a man who's torn up in the head, and the overall effect is captivating. So much so that the tune's grim reputation grew over the years and has been covered (and butchered) by all sorts. Tall tales sprang up about how Payne wrote the song about the 1966 shootings at the University of Texas in Austin, and that the God-fearing songster was too creeped out by his own creation that he forbid anyone to record it until after he passed away. Randy Fox of The Nashville Scene debunked such rumors in an excellent interview with Payne's daughter, Myrtie Le. She claims Payne was chatting with his steel guitar player, Jackie White, about Richard Speck, who murdered 8 student nurses in 1966, which led to talk about other infamous serial killers like Mary Bell and Albert Fish. This conversation sparked the song, the line "Can Mary fry some fish, mama?" as well as a shoutout to old Jackie White. Payne most likely wrote the song for Noack, who recorded his unparalleled rendition in 1968, while Payne was still alive. The two were old friends from Texas and both men cut records for Starday and D. In the comments of that Nashville Scene article, Myrtie Le chimes in that she has the original demo that Payne recorded in his den on reel-to-reel tape. Wouldn't we love to hear that one?
Arkey Blue :: Daddy's Sick Again
Arkey Blue :: Too Many Pills
Arkey Blue's "Too Many Pills" is the other honky tonk knockout on God Less America. Per that title, Arkey doesn't sugar coat the dark stuff, and most of his songs are similarly cynical and wry. He doesn't have anything to do with Leon Payne, but he is a bona fide Texan with serious horror cache. He's the owner of the Silver Dollar Saloon in Bandera, Texas, a town in the hill country that claims to be the "cowboy capital of the world." "Daddy's Sick Again," his song about a drunk pops coming home to his kid was featured in the soundtrack to the OG Texas slasher flick, Texas Chainsaw Massacre! Although Arkey and his Blue Cowboys are a live fixture in Bandera, the recordings of these songs are quite hard to find, as Arkey mostly released 45s on local labels like Hacienda, Tonka, and Grande. Arkey had a cameo in another horror film in 1975, Race with the Devil, starring Peter Fonda, Warren Oates, Loretta Swift, and Lara Parker as two couples roadtripping from Texas to Colorado in an RV. On the run from hill country Occultists, the couples stop into a saloon to lay low. Arkey–suited up in some cobalt duds–and his Blue Cowboys provide some diegetic entertainment, performing the b-side to "Too Many Pills," "Living on Credit," as well as ""Misty Hours of Daylight" during a barfight. The whole while, Arkey's pedal steel player gives the travelers a soul-piercing stare down. words / a spoto