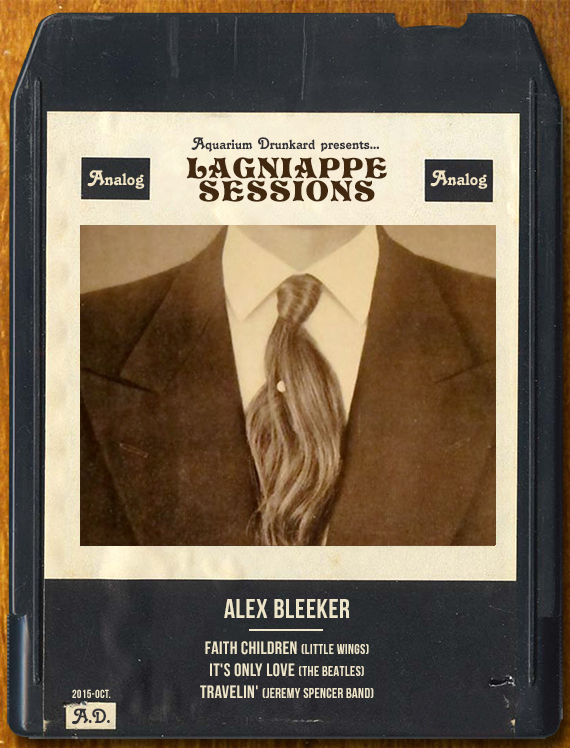 Lagniappe (la ·gniappe) noun 'lan-ˌyap,' — 1. An extra or unexpected gift or benefit. 2. Something given or obtained as a gratuity or bonus.
Alex Bleeker's latest, Country Agenda, lit out last month via Sinderlyn Records. Their third LP, the album finds Bleeker and co. further mining and expanding upon their shared set of influences — a record aptly described by their label as "drawing on the same wizened energy and brilliant restraint as Crazy Horse, the Dead, Moby Grape and other like ­-minded cosmic travelers."
This week's installment of the Lagniappe Sessions features Bleeker, solo, dipping into both the past and present. The artist, in his own words, below…
It's so fun to cover other peoples songs. When I was in school I remember transcribing a long passage of Nabokov's – and just to feel the physical sensation of typing those words – his words, in my fingers, was profound. I feel similarly about covering each of these songs, all of which I consider to be a kind of masterpiece.
Alex Bleeker :: Travelin' (Jeremy Spencer Band)
Jeremy Spencer was a member of Fleetwood Mac and he left to help establish the Children of God, a heavy Christian Cult. It makes me wonder whose love he is singing about in this song. Nonetheless, it's an amazing song and has been a tour van favorite for years.

Alex Bleeker :: Faith Children (Little Wings)
Kyle Field is a great songwriter and has been a tremendous influence on me. He's a friend, and since I'm fond of his Lagniappe Session I figured I'd cover one of his songs here.
Alex Bleeker :: It's Only Love (The Beatles)
It's nice to watch the Beatles material evolve into a kind of modern folk canon. These songs are our new standards and so they can and will be covered forever. The best!
Lagniappe Sessions Archives / imagery via d norsen