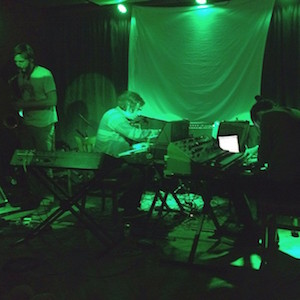 Earlier this year, Chicago ambient trio Bitchin Bajas released a limited edition EP entitled Transporteur, via the European label Hands in the Dark. From the now sold-out EP, they've shared the nine-minute-plus "Marimba," a masterwork of pulsing electronic loops and atmospheric woodwinds. It's an experiment in rhythm as drone, a trance that travels on the side of tropical, evoking the sounds of an mbira as much a synthesizer.
In addition, they released a collaborative record on their steady label home, Drag City, with the improvisational collective Natural Informational Society, led by composer and bassist Joshua Abrams. The two forces meet halfway, blending the former's electronic hypnosis with the latter's penchant for improvisational jazz ragas (Sandy Bull comparisons are welcome). Together, they crack the sonic space wide open, one existing more on an astral plane than any other. On title track, "Autoimaginary," krautrock meets spiritual jazz as tribal percussion, simmering saxophone, exotic keys and psychedelic guitar mingle and swing into one of the most interesting and cosmically grooving compositions of two thousand and fifteen.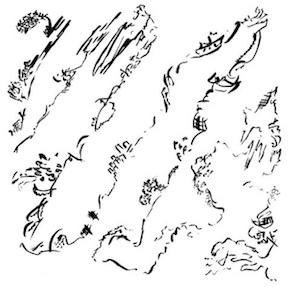 While on the topic of Chicago's Drag City label, it's important to mention Blues Control. The widely less discussed element of what could be argued as the holy trinity of CAVE-Bitchin Bajas-Blues Control (purveyors of ambience, electronics and experimental). Comprised of the instrumental Queens-based duo Russ Waterhouse and Lea Cho, the two make absolutely mind blowing music. Though they haven't released a proper album in three years, that record, Valley Tangents, hasn't even begun to wear thin. Opener "Love's a Rondo" finds a buoyant and breathtakingly sweeping piano line traveling alongside more psychedelic elements of cosmic synth, fixed percussion and a prog-infused electric guitar. Among these latter elements, the piano glides with an almost classical grace. And as good as it sounds on record, this is a band to be experienced live. A performance that feels as if the pair are spontaneously creating right in front of your eyes – and likely, they are.
Blues Control :: Love's A Rondo
The duo collaborated the year before with new age wizard Laraaji, for the RVNG Intl. label's FRKWYS series. "Awakening Day" finds the pairing toying with vibraphone, electronic percussion and sound effects, for what adds up to something akin to a 70s nature documentary score. One can hear the rippling waves, the chiming of day, perhaps even the chirping of birds. Within it lie the density and mystery of life. The suspense of beauty in its organic state. | c depasquale
Only the good shit. Aquarium Drunkard is powered by our patrons. Keep the servers humming and help us continue doing it by pledging your support via our Patreon page.