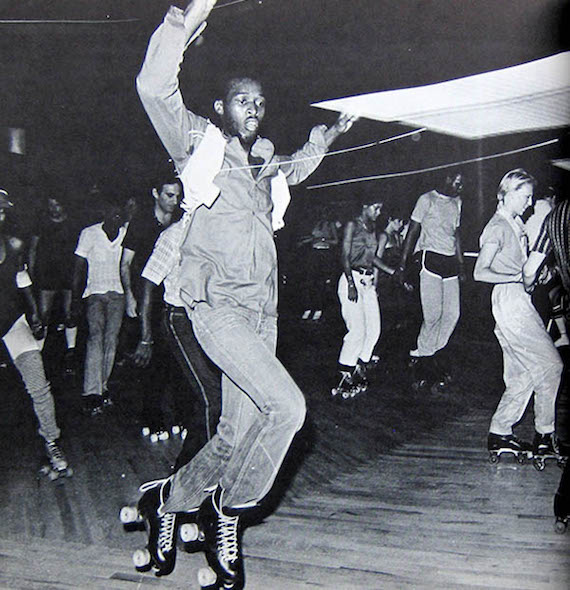 For the last six months or so I've been religiously attending DJ Clyde's Sunday Night Roll at Skateland in Northridge, CA. True roller skating culture was not something I grew up with, so for me, seeing this place for the first time was mind-blowing. The first thing I noticed was the majority of the skaters were middle aged (or "grown and sexy" as Clyde likes to say.) They were impressively skilled, many of them with custom skates made from oxford shoes. This was and is a place for people who see roller skating as a way of life. The most notable element for me was DJ Clyde the Glide's hand-selected funk/soul music and how deeply the skaters lost themselves in it. He was playing the types of records I had been digging for, but presented in a new way. This mix is inspired by the music played Sunday nights at Skateland. Enjoy. Daniel T.
Joe Thomas – Polarizer
Archie Bell and The Drells – Strategy
War – Don't Let No One Get You Down
The Whatnauts – Help Is On the Way
Steve Arrington's Hall of Fame – Weak At the Knees
The Spinners – I'll Be Around
William DeVaughn – Be Thankful For What You've Got (New Version)
The Blackbyrds – Rock Creek Park
Golden Flamingo Orchestra – The Guardian Angel Is Watching Over Us
Unlimited Touch – I Hear Music in the Streets
Delegation – Oh Honey
Deniece Williams – Cause You Love Me Baby
Surface – Happy
SOS Band – No One's Gonna Love You
Atlantic Starr – Love Me Down
Timmy Thomas – Why Can't We Live Together
Pssst…Aquarium Drunkard has launched a Patreon page, which allows readers and listeners to directly support our online magazine as it expands its scope while receiving access to our secret stash, including bonus audio, exclusive podcasts, printed ephemera, and vinyl records. Your support will help keep an independent cultural resource alive and healthy in 2019 and beyond.