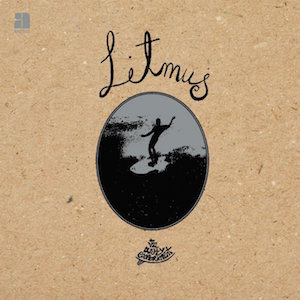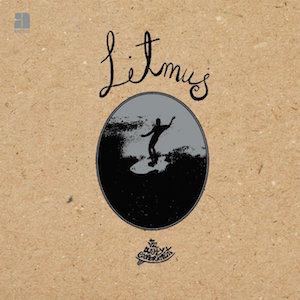 Aussie Andrew Kidman is — for lack of a better term — a renaissance man. Musician, painter, photographer, surfboard shaper, wave rider, filmmaker. That's a lot of hats to wear by any measure but when he rolled up all of his passions and pursuits into one work – he stumbled upon a bit of magic.
In 1996 Kidman released the pivotal surf film, Litmus. An instant vintage surf odyssey that arrived at the perfect moment. You see — in the mid 90s, surfing was progressing in a manner that focused quite a lot on the shred hard/surf hard mentality… which is not necessarily a good or bad thing but during this time – some of the vintage soul and grace of the craft had been overlooked by the industry. With Litmus, Kidman captured highly stylized, artful surf in the vein of Morning of the Earth or Innermost Limits of Pure Fun. Some true 1970s surf film vibes, which (among other things) focused on the surfer's relationship with the water…no matter what they rode or where they paddled.
With all that said – of course the film called for a dialed-in soundtrack.
Kidman's band The Val Dusty Experiment (and others) put together an original score full of meditative, dreamy and challenging folk that served as the soundscape to the beautiful lines the surfers (Derek Hynd, Tom Curren etc.) drew up in the film. The sound and idea was surely rooted in his reverence of those masterful films before him and bringing things back to the communion and spirit of it all…and again, its release might've been when folks needed a reminder the most.

The film was released to some critical acclaim but many in the industry were put off by his artistic vision for the project, it just didn't line up with what was currently happening. But like many masters of their craft Kidman's work proved to be timeless and Litmus has influenced generations of surfers across the globe. From showcasing classic aesthetics to ripping boards of varying shapes and sizes…it truly zagged from his contemporaries. And now, on the eve of its 20th anniversary – Litmus is back in the sun.
To mark the occasion – Anthology Recordings Surf Archive Series continues, with the release of the Litmus soundtrack. The box set release finds the soundtrack pressed to vinyl for the first time along with a companion a photo book. As a work, the lp is a classic representation of an artist willing to channel all of his creative appetites into one ageless project.
AD had the opportunity to catch up with Kidman on what he's been up to and his reflection of that period…
Aquarium Drunkard: How about a little bit of an introduction for those who might not be familiar with your work both in and out of the water. What are you up to these days?
Andrew Kidman: Still writing and playing music, working slowly on a new film, nothing happens too fast around here. Shaping custom boards to make ends meet. Looking after my kids and surfing when the waves are good.
AD: Litmus  holds a place near the top of the list of instant classic, game-changing surf films (for me that's Innermost Limits of Pure Fun, Morning of the Earth, The Californians, a couple others).
Andrew Kidman: I always liked Crystal Voyager and Pacific Vibrations. I loved Greenough's adventure and boat building in Crystal Voyager, pure DIY spirit. Serverson's Pacific Vibrations was just a brilliant film, Billy Hamilton ripping, the soundtrack was killer, so killer they weren't able to release the film commercially.
AD: When you released the project – what were you hoping to tell the audience…both visually through the surf and audibly through your soundtrack? It certainly had a tremendous, long-lasting impact.
Andrew Kidman: I was hoping the soundtrack would reflect what was going on visually, give the films the right feeling. I like making the music for my films, it always feels right to me, hopefully the audience gets it. There's a lot going on in those films with design and the different personalities, stories about different people and the different ways surfing has related to their lives. I think people's personalities end up being reflected in the way they surf.
AD: Fast forward 20 years – Classic, artful surf is ever present these days. From the lineup, to the aesthetic at many corner surf shops…I think Litmus definitely played a role…what's your take? It seemed like a pivotal time to almost break away from the 'in your face power' of it all…
Andrew Kidman: I guess. I just hope people can enjoy surfing in whatever way they want to explore it, everyone has their own personal, evolving relationship with it. If people saw Derek Hynd in Litmus and it opened up the design thing for them and made their surfing experience richer that's great. If Litmus made them feel something more about surfing and inspired them to keep paddling out than that's all we could have ever have hoped for when we made it.
AD: To that end – are you pleased and inspired by what you see out there in the surf community these days?
Andrew Kidman: Sure. There's some incredible surfboards being made these days. Shapers like Dave Parmenter and Skip Frye combining all the knowledge they have about surfboards and releasing state of the art equipment to suit every kind of condition or feeling that a surfer is chasing.  I think it's nice to see people out there riding what ever they feel like riding and just enjoying it for what it is.
AD: You have many creative pursuits…film/photography, music, board shaping (etc.). Do you find your creative process connected through all mediums or do you need to switch gears and mindset when approaching new ideas?
Andrew Kidman: It's all kind of connected. When the surf's good I surf, I get to test out the surfboards I'm working on. The films relate to the surfing and so does the music, so it's all kind of interconnected. It's all challenging and it's all fun. I'm not a huge fan of computers and the technology that's constantly changing to keep up with trying to make films or music. I prefer just the simple hands on methods, working on the music and playing it live, I prefer that experience it seems more real: shaping a surfboard from scratch, using a pencil and a template to sketch it out, thinking about it at night and going back into the bay in the morning and finding the surfboard you're trying to make in the blank. I love the process, it never gets tiring and is always kind of exciting. I personally find the whole computer thing kind of exhausting, both physically and mentally, it gives me a headache.
AD: Lastly, in addition to the beautiful box set Anthology put together…any other plans for the 20th anniversary?
Andrew Kidman: Yeah. I'd love to do some kind of tour with Litmus and Glass Love, play some of the original songs live again, project the films, I think it would be fun. words / t hale
Related: Videodrome: The Innermost Limits of Pure Fun (1969)