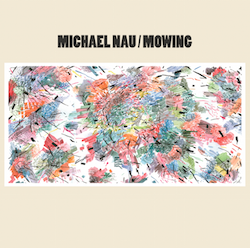 Cotton Jones have been relatively quiet since their last studio album, 2010's luminous and glacial Tall Hours in the Glowstream, a master recording of Cosmic Americana that placed the group in a category all their own. In the years since, Michael Nau and Whitney McGraw have married, had a kid, have another on the way, and have settled into their home of Cumberland, Maryland.
In February 2016, Nau will release Mowing, under his own name, on the Suicide Squeeze label. While not an official Cotton Jones release, the record still features McGraw and a cast of supporting characters crafting woozy AM gems of pop, country, soul, folk, gospel and 60's tinged psychedelia. Swaying gracefully between breezy and languid, and brimming with charm, it's got all the fixings of what has made this group one of the finest of the past decade.
Below, Nau shares the album's first single, "Winter Beat," a tune that does exactly what it says. Despite the scene he paints of barren trees and blinding snow, the sounds conjure a cozy and fuzzy flurry of psych-pop warmth. It perfectly captures what makes the season so romantically cherished — bundled in with the fireplace lit, a warm drink on hand — yet, seasonally appropriate as well, Nau leaves an air of uncertainty and existentialism to grasp at. Another year coming to an end, what will tomorrow bring? | c depasquale
Only the good shit. Aquarium Drunkard is powered by our patrons. Keep the servers humming and help us continue doing it by pledging your support via our Patreon page.