"You know, I used to be pissed off at Bobby Darin because he changed styles so much. Now I look at him and I think he was a fucking genius." – Neil Young, 1988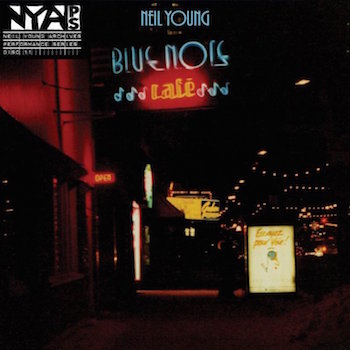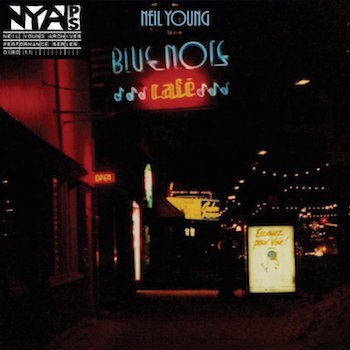 Neil Young took his fans on a wild ride in the 1980s, dabbling in synth-pop, rockabilly, country and finally, blues rock on the This Note's For You LP with a big band Neil dubbed the Bluenotes. It's not a great album by any stretch of the imagination, hampered by tinny production and uninspired performances. But the Bluenotes were a force to be reckoned with onstage, and they get their due on the latest in Neil's Performance Series live archive releases,  Bluenote Café.
Recorded in 1987 and 1988,  Bluenote Café's two discs capture the BIG sound of the Bluenotes, with brass heavy arrangements and a lively vibe framing Young's impassioned guitar playing and singing. While some of the originals Neil cooked up for the Bluenotes are little more than variations on tried-and-true R&B changes, they're always attacked vigorously and mercilessly. And in typical Young-ian fashion, many of the best Bluenotes tunes didn't actually see official release at the time — the Sinatra-esque "Big Room" and the brooding "Bad News Comes To Town" and the epic "Ordinary People" among them.
There are some seriously intense musical moments here, including the fiery "Crime In The City," the slow-burn "Don't Take Your Love Away" and, best of all, the gripping "Twilight," as Young's tortured guitar plays against a lockstep rhythm and groaning horns. Finishing the set is a legitimately terrifying, almost 20-minute trip through "Tonight's The Night," with Neil and co. taking Bruce Berry's Econoline van for a demented joyride — and driving the whole thing right off a cliff. The Bluenotes may have ended up as just a footnote in Neil Young's long, strange career. but  Bluenote Café  shows that they burned brightly there for a short while. words / t wilcox