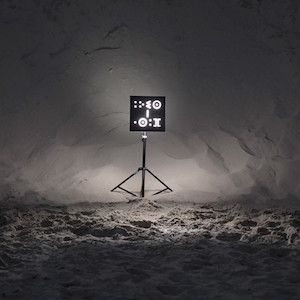 Tinariwen is a perennial favorite here at AD, and the Touareg band has just released their first proper "live" album, recorded in Paris at the Théî¢tre des Bouffes du Nord last December. Tinariwen's prowess as a "live" band cannot be overstated. Their rapturous style of Saharan guitar music is wholly captivating in the flesh, and their studio albums are mostly comprised of live takes captured in the open-air silence of the desert. What elevates this concert from mere soiree to fîªte is the presence of Lalla Badi, the 75 year old master and keeper of the tindé, which refers both to the goatskin drum traditionally played by women, and the repertoire performed for special occasions. Indeed, Live In Paris documents a celebratory night: the finale of the year-long world tour supporting Emmaar in front of an electrified crowd in the Francophone capital.
On the release day of Live in Paris, Tinariwen posted a bittersweet album announcement, decrying the attacks at the Bataclan and recalling their own performance at the legendary venue, "Our friend Robert Plant joined us on stage, it's one of our best memories as musicians. We're all touched by this tragedy because it affects our friends, music, freedom, and values that Tinariwen has defended for almost 30 years…" This band was born from the crucible of post-colonial chaos in the Sahara, which to this day is volatile and rife with violent insurgency and sectarian conflict. Their most recent studio album, Emmaar, was recorded in California, in exile, because conditions were too dangerous for band members to convene at their homes in Algeria and Mali. That Tinariwen has existed and evolved for 30 years to master their form and play to a sold out theater in Paris is testament to the transcendent power of music. It's also one of countless reminders of what a savage violation occurred in the sacred space of the music hall, the song circle…
Tinariwen's relationship with Lalla Badi goes back some 30 years as well, and they describe her as a mentor and protector. In the 1970's, she was in the habit of taking in ishumars, "unemployed vagrants," at her home in southern Algeria, and her mastery of the tindé inspired several of the original band members in their formative years. The tindé tradition is beautiful and communal, bound by the drums and clapping, and is a central part of family and community events, weddings, etc. It's the sort of music that lives in the home, not the international tour circuit. Yet the rhythm of the tindé is a fundamental component of Tinariwen's sound.
Live in Paris is mostly comprised of versions from Emmaar, but the songs with Badi are the clear highlight. This Paris appearance is her first visit to France in over 30 years, and she delivers her tindé chants in a mesmerizing display. The energy in those moments is especially palpable. Tune in below to the group's "Tindé Final" for visuals. words / a spoto
For heads, by heads. Aquarium Drunkard is powered by its patrons. Keep the servers humming and help us continue doing it by pledging your support via our Patreon page.