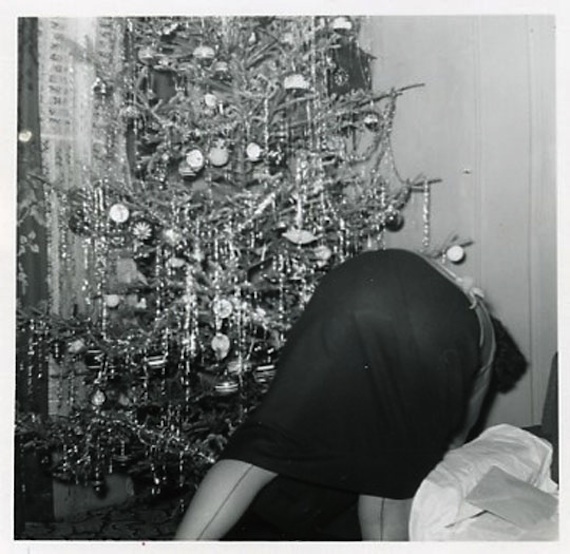 Holiday esoterica from the far corners of vintage twang, fuzz, scuzz, r&b, blues, country, garage, lounge and beyond. Trim your tree with Red Simpson and Mae West, then top it off with The Sonics, Hank Snow and Champion Jack Dupree. It's a heady brew. Go ahead, deck them halls.
Jack Scott — There's Trouble Brewing [A-Side Version]
The Sonics — I Don't Believe In Christmas
Mae West — Put The Loot In The Boot, Santa
Roosevelt Sykes — Let Me Hang Your Stockings In Your Christmas Tree
Patsy Raye — Beatnik's Wish
Big John Greer — Santa Do The Mambo
Kay Martin And Her Body Guards — Santa's Doing The Horizontal Twist
The Marquees — Christmas in the Congo
Tony Rodelle Larson and The Saints — Cool Yule
Babs Gonzales — Be-Bop Santa Claus
Champion Jack Dupree — Santa Claus Blues
Clyde Lasley & The Cadillac Baby Specials — Santa Came Home Drunk
Andre Williams — Poor Mr. Santa
Hasil Adkins — Santa Claus Boogie
Thee Headcoatees — Santa Clause
The Wailers — Christmas Spirit
Nathaniel Mayer — Mr. Santa Claus
Tom Waits — Christmas Card From A Hooker In Minneapolis
Brenda Lee — I'm Going To Lasso Santa Claus
Hank Thompson — I'd Like To Have An Elephant For Christmas
Eddie and De Havelon — Christmas Party
Jimmy Butler — Trim Your Tree
Hank Snow — Reindeer Boogie
Red Simpson — Truckin' Trees For Christmas
Loretta Lynn — To Heck With Ole Santa Claus
Roger Miller — Old Toy Trains
Ernest Tubb & His Texas Troubadours — I'll Be Walkin' the Floor This Christmas
Pee Wee King — Rootin' Tootin' Santa Claus
Rev. J.M. Gates — Did You Spend Christmas Day In Jail?
The Youngsters — Christmas In Jail
Buck Owens — Santa Looked A lot Like Daddy (Daddy Looked A Lot Like Him)
The Everly Brothers — Christmas Eve Can Kill You
Red Sovine — Here It Is Christmas
Pssst…Aquarium Drunkard has launched a Patreon page, which allows readers and listeners to directly support our online magazine as it expands its scope while receiving access to our secret stash, including bonus audio, exclusive podcasts, printed ephemera, and vinyl records. Your support will help keep an independent cultural resource alive and healthy in 2019 and beyond.